Trump transferred $10 million in FEMA money to ICE detention camps, document shows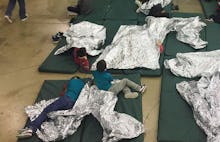 At the height of hurricane season, President Donald Trump authorized the transfer of nearly $10 million in money intended for the Federal Emergency Management Agency for use in U.S. Immigration and Customs Enforcement detention centers, a newly released document shows.
On Tuesday, Sen. Jeff Merkley (D-Ore.) released the Department of Homeland Security document, which authorizes the transfer of money from FEMA's travel, training, public engagement and information technology budgets for explicit use in ICE detention centers.
"Without the transfers and reprogramming identified in this notification, ICE will not be able to fulfill its adult detention requirements in [fiscal year] 2018," the document reads.
During a Tuesday night appearance on the Rachel Maddow Show on MSNBC, Merkley said that he questioned insistences by the Trump administration that the reallocation "has no bearing on ... addressing the challenges from hurricanes," and said that move comes as the White House is "working hard to find funds for additional detention camps."
According to a copy of the document obtained by CNN, the money transfer amounts to less than 1% of FEMA's overall $1.03 billion budget.
In a series of tweets, Homeland Security press secretary Tyler Houlton denied that the funds had been diverted from use in a disaster relief capacity.
"Under no circumstances was any disaster relief funding transferred from @fema to immigration enforcement efforts," Houlton wrote. "This is a sorry attempt to push a false agenda at a time when the administration is focused on assisting millions on the East Coast facing a catastrophic disaster."
"The money in question — transferred to ICE from FEMA's routine operating expenses — could not have been used for hurricane response due to appropriation limitations," he added. "DHS/FEMA stand fiscally and operationally ready to support current and future response and recovery needs."
The funding shakeup comes as Trump and the DHS are struggling to fund a costly crackdown on illegal immigration. In March, the White House appealed to Congress to agree to fund 51,000 beds in immigration centers, citing a growing need for space amid stepped up enforcement policies. Congress eventually agreed to fund an additional 40,520 beds, marking a 3% increase over previous years — but far short of what the administration had requested.