It looks like Henry Cavill won't be playing Superman anymore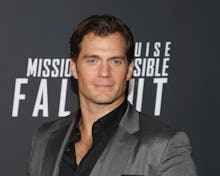 Superman might be thought of as nearly invulnerable, but a new report says the character has just taken a considerable hit. In an exclusive, Hollywood Reporter reported actor Henry Cavill will split with Warner Bros., leaving the role of Superman, and his alter ego Clark Kent, behind.
According to THR, Warner Bros. tried to have Cavill make a cameo as Superman in the studio's upcoming Shazam! movie, but arrangements fell through due to scheduling conflicts. Going forward, the studio aims to make a Supergirl origin story movie — and that means the actor playing Superman in that film would need to be much younger than Cavill.
"Superman is like James Bond, and after a certain run you have to look at new actors," a source within Warner Bros. told Hollywood Reporter. This news comes after widespread rumors that Ben Affleck, who has acted alongside Cavill in the DC movies as Batman, will not return to the shared DC Universe, either. Warner Bros.' Wonder Woman actress Gal Gadot, meanwhile, will still appear in the sequel Wonder Woman 1984, which is slated for 2019.
Cavill starred as Superman in 2013's Man of Steel, 2016's Batman v. Superman; Dawn of Justice and 2017's Justice League. The actor has also recently appeared in the latest Mission Impossible movie, Fallout, and was recently cast as Geralt in Netflix's The Witcher series, based on the game. The Hollywood Reporter speculates the Witcher series would limit Cavill's schedule even further, adding another nail to his Superman's coffin.
The removal of Cavill and potentially Affleck is a stark contrast with the DC movies' main competitor: Disney's Marvel Cinematic Universe. Actors like Chris Evans have played the role of Captain America for seven years straight while Robert Downey Jr. has donned the Iron Man suit for a decade.
Cavill's departure as Superman could clear a path for Warner Bros. to attempt, once again, to create a series of films that can be as popular as Marvel movies. Yes, that means we could be looking at yet another round of reboots for Superman and Batman.