US Appeals Court upholds restrictive Missouri abortion law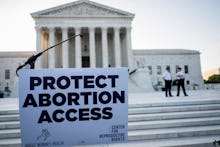 A federal appeals court upheld on Monday a Missouri law that puts restrictions on abortion clinics, putting the law one step away from being decided by the U.S. Supreme Court and potential justice Brett Kavanaugh.
Under the Missouri law, all doctors who perform abortions must be "privileged to perform surgical procedures in at least one licensed hospital" located 15 minutes away, and facilities that perform surgical abortions must meet certain physical design and layout requirements.
After first reaching a settlement with the state over the requirements in 2010, two Missouri-based Planned Parenthood groups sued to block the law in 2016 after the U.S. Supreme Court struck down a similar law in Texas. The Supreme Court's ruling in Whole Woman's Health v. Hellerstedt found that the law put an unconstitutionally undue burden on people seeking abortions, and stipulated that courts must "consider the burdens a law imposes on abortion access together with the benefits those laws confer" when judging whether an abortion law is unconstitutional.
The U.S. Court of Appeals for the Eighth Circuit overturned an injunction granted by a district court that blocked the Missouri law, allowing the state to begin enforcing the restrictions. In his ruling, U.S. Circuit Court Judge Bobby Shepherd noted that the Hellerstedt ruling "did not find, as a matter of law, that abortion was inherently safe or that provisions similar to the laws it considered would never be constitutional," allowing the court to go against the precedent the ruling set.
Shepherd argued the district court should have better considered the state's "asserted benefits" when judging the Missouri law's hospital requirements, noting that while the Hellerstedt ruling specified that "abortion in Texas was extremely safe" before the restrictive law was passed, "no such determination about abortion in Missouri was made here."
"Perhaps there was a unique problem Missouri was responding to under its inherent 'police power,'" Shepherd wrote. "Such a problem may require a different response than what was needed in Texas, and the Hospital Relationship Requirement may be appropriate given '[Missouri's] legitimate interest in seeing to it that abortion, like any other medical procedure, is performed under circumstances that [ensure] maximum safety for the patient.'"
It is unclear how the safety of abortion patients in Texas and Missouri could differ; according to a 2012 study published in the journal Obstet Gynocol using data from the Centers for Disease Control and Prevention, legal abortion in general is "markedly safer" than childbirth and the risk of death is 14 times higher with childbirth than abortion.
The appeals court declined to rule on the facility requirements specified in the Missouri law, noting that it "lack[ed] sufficient information" about waivers that facilities can request if they don't meet the stated requirements.
The Missouri Planned Parenthood organizations named in the suit, Comprehensive Health of Planned Parenthood Great Plains and Reproductive Health Services of Planned Parenthood of the St. Louis Region, said in a statement the ruling "could impact services within weeks." The requirements could end abortion services at a clinic in Columbia, Missouri, and result in only one clinic providing abortions in the state.
The Guttmacher Institute explained in an analysis that restrictions on abortion clinics such as those in Missouri, known as "TRAP laws," are often unnecessary to ensure patient safety or improve care. Requiring clinics to have relationships with hospitals, the Guttmacher Institute noted, "add nothing to existing patient protections while granting hospitals effective veto power over whether an abortion provider can exist."
"TRAP laws make abortions less accessible to patients (especially poor and low-income patients) by reducing the number of facilities that provide abortion services," a study published in February in the American Journal of Public Health noted. The study found clinics that provide abortions are regulated more stringently through TRAP laws than requirements for other office-based surgeries.
Monday's ruling comes amid the confirmation process for U.S. Supreme Court nominee Brett Kavanaugh, who many believe would provide the deciding vote to weaken abortion rights or overturn the landmark abortion ruling Roe v. Wade. During his confirmation process, Kavanaugh has described Roe as "settled law" and another abortion ruling, Planned Parenthood v. Casey, as "precedent on precedent," but he did not comment on the Hellerstedt ruling during his recent Senate hearing.
The Missouri case is one of at least 14 abortion-related cases in federal appeals court that could soon end up before the Supreme Court. Monday's ruling now puts it one step away from a potential Supreme Court decision, as appeals court rulings can be directly appealed to the Supreme Court.