Revolve faces backlash over "Being fat is not beautiful it's an excuse" sweatshirt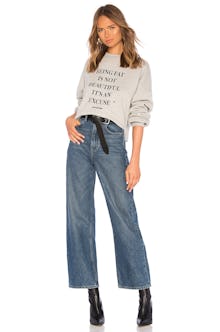 Revolve, a billion-dollar fashion company catering to millennial women that was founded by two men with no fashion experience, is coming under fire after the release of a sweatshirt emblazoned with the phrase "Being fat is not beautiful it's an excuse."
The phrase is credited on the sweatshirt "as said to Paloma Elsesser," herself a plus-size model, though not the model seen wearing the shirt on the brand's website.
The sweatshirt is part of a series of five shirts designed by LPA founder Pia Arrobio. Others, which all adhere to the "as said to" format, include Lena Dunham ("Horrible Result of Modern Feminism") and Cara Delevingne ("Too boney to be boned"). The company, no stranger to controversy, has previously been accused of lacking racial and body diversity amongst its models.
Naturally, backlash has ensued on social media, most notably from model Tess Holliday, who blasted Revolve on Twitter calling the brand, succinctly, "a mess."
"They have a huge following that's mostly young women and they are perpetuating the toxic idea that our worth is tied into our size," Holliday said in a statement to Mic. "They must have never seen me, because I'm fat and beautiful."
She's not the only one who feels that way.
"Beauty is not based on size, but ignorance is based on insecurity," model Felicity Howard said in a statement to Mic. "This brand is trash and is either so ignorant that they think this message is acceptable or so insecure that they have to play off body shaming in order to gain attention."
On Wednesday afternoon, London-based artist Florence Given posted a screenshot on Instagram of a conversation between her and Paloma Elsesser in which Elsesser explained that she too was "mortified" by this, noting that the "point was to shine the light on how horrible trolling is ... so basically the opposite of what it seems." In her attached caption, Given noted that Revolve had taken down the shirt as a result of the uproar.
Mic has reached out to Revolve and Elsesser for further comment and will update if we hear back.
Sept. 12, 2018, 3:52 p.m.: This post has been updated.