Kenya Barris opens up about ABC and 'Roseanne:' "F*ck Roseanne. ... She's a f*ckin' monster"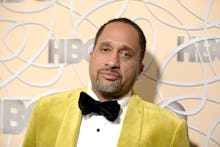 Black-ish creator Kenya Barris, who recently announced he's signed what is reportedly a massive deal with the streaming service Netflix, opened up about his exit from ABC in a new interview with the Hollywood Reporter published Wednesday. He also spoke about Roseanne Barr, whose infamous reboot aired the same night as Black-ish.
Barris said that, if ABC hadn't effectively kicked Barr off of her own show, he was willing to speak out about the sitcom star after her racist tweet comparing former Obama aide Valerie Jarrett to an ape. "Because fuck Roseanne," Barris told the Hollywood Reporter. "She's a fuckin' monster. And they were like, 'Why is this monster killing villagers?' And I was like, 'Because that's what a monster does.'"
Barris also spoke with the Hollywood Reporter about his decision to leave ABC ahead of his contract's scheduled end, after a series of clashes with the network. While he was reluctant to badmouth any execs (Barris called ABC Studios chief Patrick Moran and entertainment president Channing Dungey his "family"), he did reveal some details about the Black-ish episode that was shelved days before it was scheduled to air in February.
Titled "Please, Baby, Please," the episode in question, widely referred to as the "kneeling episode," actually focused on a wider scope of current events than just the NFL protests, incorporating actual footage of President Donald Trump and the deadly white supremacist rally in Charlottesville, Virginia. The episode's story was told through the lens of lead character Dre, played by Anthony Anderson, talking to his infant son about the world, trying to get him to fall asleep.
"We approached it with the network and the studio as, 'This is different,'" Barris said. "We certainly knew people would talk about it."
But the network pushed back on the episode's anti-Trump narrative, and when Barris tried to make some of the network's suggested cuts, he didn't like the result. "What it ended up being, and I think the network would agree, was not a true representation of what we intended to do," he said. "Because if it was, we would've shown it." So the episode was pulled and never aired — and months later, Barris announced he was leaving the network.
Now, he told the Hollywood Reporter, he's excited to create shows for Netflix, where he will no longer have to report to network higher-ups. "If I was going to step out, I wanted to do something where I could take off all the straps and really hang out of the plane," he said. "I want to be Netflix with attitude — loud, bold and unapologetic."