Trump signs executive order targeting election interference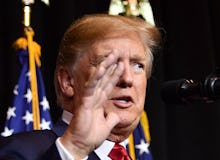 President Donald Trump on Wednesday signed an executive order aimed at punishing foreign actors that attempt to interfere in U.S. elections, as Russia did in in the 2016 presidential election.
According to reports, the order has been in the works for months. It will impose sanctions on any foreign entities found trying to meddle in U.S. elections, and would be "another tool in the tool kit" to protect the U.S. election system, an administration official told the Wall Street Journal on Tuesday.
The move came as Trump continues to face scrutiny for his repeated attempts to cast doubt on U.S. intelligence assessments that Russia interfered in the 2016 presidential election on his behalf — and an FBI probe into the possibility that his campaign conspired with the Kremlin.
Trump, who has sought warmer relations with Moscow, has frequently suggested he sides with Russian President Vladimir Putin over his own intelligence agencies, including during a controversial meeting between the two leaders in Helsinki in July.
"My people came to me, [Director of National Intelligence] Dan Coats came to me, some others, they said they think it's Russia," Trump said at a press conference with Putin. "I have President Putin. He just said it's not Russia. I will say this, I don't see any reason why it would be."
At that same press conference, Trump blamed tensions between the United States and Russia on special counsel Robert Mueller, whose investigation into Moscow's interference in the 2016 election is routinely slammed as a "witch hunt" by the president.
Though Trump has raised eyebrows with his friendly posture toward Moscow, his administration has often signaled a harder line against Russia — a "two-track" approach, as an anonymous administration official described it in an explosive New York Times op-ed on Sept. 5.
In response to the poisoning of a former Russian double agent and his daughter in the United Kingdom in March, the administration expelled Russian diplomats from the United States — a move, according to the unnamed White House official, that Trump was "reluctant" to make.
The administration has also leveled sanctions against Russia on numerous occasions as punishment for the Sergei Skripal nerve agent attack, interference in the 2016 election and other "malign" activity.
Trump, however, has spoken positively of Putin and touted his "good relationship" with the Russian leader.
The executive order is being framed as an effort to demonstrate strength on the issue of election interference.
"This is not a single solution," an administration official told WSJ. "But it makes a clear statement by the president that this sort of activity will not be tolerated and will be punished."