Michigan State University hid decades of Larry Nassar sexual assault allegations, lawsuit claims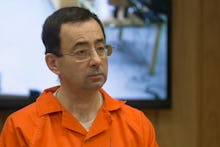 Erika Davis was a 17-year-old field hockey player at Michigan State University in 1992. That year, she also became one of former MSU sports medicine doctor Larry Nassar's estimated 265 sex abuse victims, as detailed in a federal lawsuit she and several other plaintiffs filed Monday against the university.
The suit alleges that Nassar — who in January was sentenced to 40 to 125 years in prison for three counts of criminal sexual conduct stemming from crimes committed while he was a doctor for the university, USA Gymnastics and the U.S. Olympic gymnastics team — drugged, raped and impregnated Davis 26 years ago, according to NBC News.
The lawsuit also claims the assault was captured in a video recording later retrieved by Davis' coach at MSU, after Davis told the coach about what Nassar had done to her. When the coach took the video to then-MSU athletic director George Perles, Perles, who's now a university trustee, allegedly dismissed the complaint, and the coach "was forced to return the video, resign and sign a nondisclosure agreement."
Davis — who says she was a virgin before Vassar raped her — later found out she was pregnant and subsequently miscarried. Michigan State University spent years covering up this and other instances of Nassar's sexual misconduct against female student-athletes between the early 1990s and 2016, according to the lawsuit.
To make matters worse, Davis faced added resistance when she reported the incident to the Michigan State University police, which allegedly told her to take her grievance to the athletic department.
"Plaintiff Erika explained that the athletic department already dismissed it and the Sergeant responded that [former athletic director] George Perles is a 'powerful man,' and she should just drop it," the suit states, according to NBC News.
Davis lost her field hockey scholarship soon after.
Defendants in the Monday lawsuit include the MSU board of trustees, former MSU gymnastics coach Kathie Klages — who was charged in August with lying during an investigation into Nassar's misconduct — USA Gymnastics and Nassar himself.
Additional plaintiffs, who were not named in the suit, also allege that university officials did nothing to address their misconduct allegations against Nassar. The lawsuit also accuses USA Gymnastics of "fraud and misrepresentation that Nassar was a competent and safe physician."