Planned Parenthood names Dr. Leana Wen as next president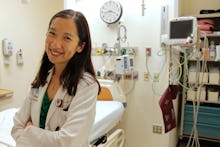 Dr. Leana Wen will succeed Cecile Richards to become Planned Parenthood Federation of America's sixth president, the reproductive rights advocacy group announced Wednesday in a statement.
Wen previously served as the Baltimore City health commissioner, where she fought bullishly to reduce opioid-related deaths and also repeatedly challenged the Trump administration over its changes to Title X, the national program for family planning and preventive health services.
"A core principle in public health is to go where the need is," Wen said in a statement on her new role. "The single biggest public health catastrophe of our time is the threat to women's health and the health of our most vulnerable communities."
The appointment comes at a time when women's reproductive rights are particularly embattled, as the looming Senate confirmation of Brett Kavanaugh to the Supreme Court threatens to jeopardize the landmark Roe v. Wade decision that enshrines a woman's right to an abortion.
"After considering some truly formidable women, the search committee unanimously, even joyfully selected Dr. Leana Wen," Anna Quindlen, chair of the Planned Parenthood search committee, said in a statement. "Like so many of our affiliate leaders, she is passionate about balancing public advocacy for reproductive freedom with the daily provision of quality health care."
Wen, who is a Chinese immigrant, attracted national attention during her time in Baltimore as she waged a full-frontal assault on rampant opioid abuse in the city. In 2017, she pioneered a strategy to combat addiction by issuing a blanket prescription for the overdose reversal medication naloxone to every city resident, effectively making the drug widely available over the counter at pharmacies.
Under Wen, the city of Baltimore sued the Trump administration in March for diverting funds from teen pregnancy prevention programs in the city, eventually prompting a federal judge to restore $5 million in grants.
Wen will be the first physician to serve as Planned Parenthood's president in nearly 50 years. She will take the helm of the organization in the midst of a tough political climate, at a time when Republicans are increasingly targeting Planned Parenthood's inclusion in public health and family planning programs as a result of their ideological opposition to abortion.
"For the last 100 years, no organization has done more for women's health than Planned Parenthood, and I'm truly honored to be named its president," Wen said in a statement. "As a doctor, I will ensure we continue to provide high-quality health care, including the full range of reproductive care, and will fight to protect the access of millions of patients who rely on Planned Parenthood."
Cecile Richards, the outgoing president of Planned Parenthood, tweeted Wednesday that she "couldn't be prouder" to welcome Wen into the role.
"She has dedicated her career to fighting for health care for all, both as a doctor and as a public health leader in the city of Baltimore," Richards wrote. "I know she'll be a champion for Planned Parenthood patients and for women, men and young people everywhere."