Stormy Daniels to release tell-all book on Trump in October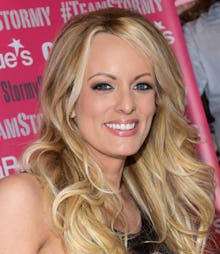 Stormy Daniels, the adult film actress who alleged that she had an affair with President Donald Trump, will release a tell-all book on Oct. 2 about her relationship with Trump, she announced Wednesday on The View.
"Yes. It's full disclosure. That's why I named it that," Daniels told The View co-host Joy Behar of her interactions with Trump.
The book's release in early October, weeks before voters head to the polls for the midterm elections, could cause more trouble for Republicans hoping to hang on to their congressional majorities.
A payment Trump made to Daniels to keep her affair allegations silent led to a guilty plea from Trump's longtime personal lawyer Michael Cohen, who admitted to the illegal payment scheme to "silence" Daniels and another woman who said she had an affair with Trump.
Trump isn't the only subject of her book, however. Daniels said it is also a memoir that details her career in the porn industry, as well as her personal life.
"I've been working on a book for about 10 years, so I just sort of melded everything together," Daniels said on The View. "I've kept notebooks of the adventures I've had on the road and in strip clubs and stuff. It will blow your mind."