Mic Daily: Trump transferred $10 million from FEMA to ICE — and other stories of the day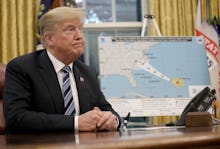 Welcome to Mic Daily: Mic's newsletter that cuts through the noise and lands in your inbox every weekday. We carefully curate each edition to send you a cross section of our most vital stories of the day.
Want more entertainment news in your inbox? Sign up for Hype Daily — Mic's morning entertainment briefing. It's got all the news you need to start your day.
Black-ish creator Kenya Barris, who recently announced he's signed what is reportedly a massive deal with the streaming service Netflix, opened up about his exit from ABC in a new interview with the Hollywood Reporter that was published Wednesday. He also spoke about Roseanne Barr, whose infamous reboot aired the same night as Black-ish.
At the height of hurricane season, President Donald Trump authorized the transfer of nearly $10 million in money intended for the Federal Emergency Management Agency for use in U.S. Immigration and Customs Enforcement detention centers, a newly released document shows.
The esteemed film Harold & Kumar Go to White Castle debuted at the box office in July 2004. More than 14 years later, Kal Penn, who played Kumar, is returning to the burger joint, but this time for a very different reason.
On Wednesday, White Castle announced the addition of the Impossible Burger to its menu nationwide. For those unfamiliar, the Impossible Burger is the veggie patty darling of Silicon Valley: Made to "bleed" and resemble beef in both taste and texture, the plant-based burger is drastically better for the environment than conventional cow-based patties.
An Australian tabloid that printed a cartoon earlier this week caricaturing Serena Williams' behavior at Saturday's U.S. Open final reprinted it on Wednesday, despite the cartoon being widely criticized as racist and sexist.
According to the Associated Press, the Herald Sun used the reprint to address — and ultimately dismiss — the controversy surrounding the cartoon, which was drawn by Sun editorial cartoonist Mark Knight and first shared online Monday.
It's been over five years since Tyrone West's scuffle with Baltimore police ended with his in-custody death. And his sister, Tawanda Jones, hasn't stopped leading weekly vigils calling for the officers involved to be held accountable.
Jones often shouts a refrain over a loudspeaker at "West Wednesdays," the vigils she holds at busy intersections or outside government buildings to draw attention to her brother's case and to other cases of police violence: "We won't stop, we can't stop, until killer cops are in cell blocks!"