New Jersey GOP lawmaker under fire for saying orphanages are better than letting LGBTQ people adopt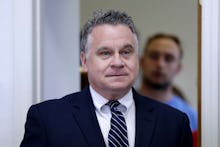 Rep. Chris Smith (R-N.J.) is under fire after telling students at a high school in his New Jersey district that putting kids in orphanages is a better option than allowing LGBTQ parents to adopt, according to a recording obtained by the Washington Blade.
The exchange came after Hannah Valdes, a student at Colts Neck High School, asked Smith whether he believed her sister, who is out as gay, would be "less of a legitimate parent" than a heterosexual person, according to the Blade. Smith initially didn't answer the question, and Valdes further pushed him to answer for why he thinks LGBTQ parents shouldn't be able to adopt.
"There are many others who would like to adopt who can acquire a child," Smith replied. "The waiting periods are extremely long."
Smith went on to say orphanages may be a better option.
"Somebody mentioned orphanages before," Smith said, according to the Blade. "I mean, orphanages are still a possibility for some kids."
Smith is under fire from members of his own congressional delegation, who called his remarks "bigoted."
"Deeply outraged and offended by @RepChrisSmith's bigoted views on LGBTQ adoption," Rep. Frank Pallone, a Democrat from New Jersey, tweeted. "Congressman Smith should know that LGBTQ parents are just simply that — parents. They are parents who provide every bit of love and care as their heterosexual neighbors."
Smith has a history of supporting anti-LGBTQ legislation, receiving a zero on the Human Right Campaign's congressional scorecard — the worst score a member of Congress can get.
In 2015, at a House Foreign Affairs subcommittee meeting, Smith said he is " a strong believer in traditional marriage, and do not construe homosexual rights as human rights."
Smith represents New Jersey's most Republican House district, and as such is the only GOP member in the state who is not viewed as vulnerable in November. Trump carried Smith's seat by a 15-point margin in 2016. Yet his Democratic challenger Josh Welle, a veteran, is condemning Smith for the comments.
"In 2018, in Central Jersey, it is unacceptable to imply a child would be better off in an orphanage than with a loving LGBTQ family," Welle tweeted Wednesday. "Chris Smith takes us backwards on inclusion and basic human rights for all."