Hype Daily: Jeff Fager is out at CBS and more entertainment news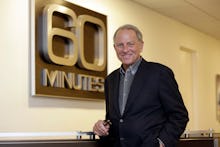 Welcome to Hype Daily, Mic's morning entertainment roundup. Here's everything you need to catch up on in the entertainment world and what to look forward to today. Want to receive this as a daily email in your inbox? Subscribe here.
Good morning Hype Daily readers — and if you're a New Yorker, happy primary day! Don't forget to vote. OK, let's get into it.
60 Minutes producer Jeff Fager is out at CBS
60 Minutes executive producer Jeff Fager was fired from CBS Wednesday, days after CBS CEO Les Moonves stepped down amid allegations of sexual misconduct against him. Fager had been accused of groping an intern at a work party in a recent report from Ronan Farrow at the New Yorker.
According to CNN Money, the reason the network gave for Fager's hasty departure was an inappropriate text message he sent to CBS News reporter Jericka Duncan, who is covering the sexual harassment allegations at CBS.
Duncan shared the text message on air, Variety reported. It said, "If you repeat these false accusations without any of your own reporting to back them up, you will be responsible for harming me. ... Be careful. There are people who lost their jobs trying to harm me and if you pass on these damaging claims without your own reporting to back them up, that will become a serious problem." While Fager was fired for the text message, CBS said the allegations in the latest Farrow report are still being investigated as well, CNN Money reported.
Norm Macdonald follows up his horrible comments with more horrible comments
OK, so first "comedian" Norm Macdonald gave a cringeworthy interview with the Hollywood Reporter in which he went to bat for Louis C.K. and Roseanne Barr, seemingly suggesting they suffered more than their victims, and disparaged the #MeToo movement. Then his apology tour for his horrible comments wound up being somehow even more offensive.
In an interview with Howard Stern Wednesday, Macdonald said he actually wasn't defending his disgraced friends, and he actually does support #MeToo. "I never defended them. ... I am completely behind the #MeToo movement," Macdonald said.
Then he added, "You'd have to have Down syndrome to not feel sorry for — #MeToo is what you want for your daughters, and you want that to be the future world, of course. And I meet all kinds of women with terrible stories of what's happened to them. So, I wasn't talking about the victims. They asked me about Roseanne." Yikes.
Viola Davis says she has regrets about 'The Help'
Oscar-winning actor Viola Davis said she has some regrets about The Help, the 2011 Civil Rights-era drama about a white woman who writes a book about two black maids. Speaking to the New York Times at the Toronto International Film Festival this week, Davis said, "Have I ever done roles that I've regretted? I have, and The Help is on that list. But not in terms of the experience and the people involved because they were all great."
She elaborated, saying, "I just felt that at the end of the day that it wasn't the voices of the maids that were heard. I know Aibileen. I know Minny. They're my grandma. They're my mom. And I know that if you do a movie where the whole premise is, 'I want to know what it feels like to work for white people and to bring up children in 1963,' I want to hear how you really feel about it. I never heard that in the course of the movie."
Jon Hamm says he would play Batman
Don Draper in the Batmobile? It could happen. Just as we were getting news of a superhero shake-up at DC, Jon Hamm gave an interview where he said he'd be down to take up the role of the caped crusader, the Hollywood Reporter reported Wednesday. "I am a huge comic book fan, always have been," Hamm said. "I've read comic books since I was 9 or younger. And I'm pretty knowledgeable about a lot of them. And I like the genre, and I like when they're done well."
But, he said, he hasn't had any actual conversations about taking on the role, it's just something he'd like to try, Hamm said. "I'd probably fit the suit," he said. "I'd have to work out a lot, which I don't love. But, I am sure there's an interesting version of that being out there. And if they wanted to tap me on the shoulder and ask me to do it, why not?" 
Put this on your radar: Forever
The new Amazon series Forever, which premieres Friday, is getting rave reviews — except no one really knows what it's about. The series, which stars the always-excellent Maya Rudolph and comedian Fred Armisen as a married couple, is under strict embargo, Amazon has apparently asked critics to keep quiet on basically all the details of the show.
But despite the secrecy, it's getting good buzz. Vulture's reviewer said that "Forever is one of the best new shows of the fall TV season," adding, "But here's the thing: I can't fully tell you why." Watch a trailer here.