Today in Trump's America: FEMA administrator under fire for use of government vehicles, per report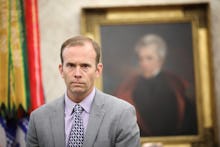 Welcome to Mic's daily read on Donald Trump's America. Want to receive this as a daily email in your inbox? Subscribe here.
Good morning from Emily Singer at Mic.
Here's what's happening in Trump's America:
• There are no public events on Trump's schedule.
About last night: FEMA administrator Brock Long under investigation
The Department of Homeland Security's inspector general is investigating Federal Emergency Management Agency administrator Brock Long for possibly misusing government vehicles to commute back and forth from Washington, D.C. to his home in North Carolina, according to a report published Thursday morning by Politico.
The investigation was triggered after a black Suburban Long used was involved in an accident, according to Politico's report. Long reportedly used a staff driver to take him on the six-hour trip back to North Carolina on the weekend and used taxpayer funds to put the driver up in a hotel.
Long is the latest Trump administration official to face questions about misuse of taxpayer funds, including now former Secretary of Health and Human Services Tom Price, who was forced to resign over his use of private jets, and now former Environmental Protection Agency administrator Scott Pruitt.
The news of the investigation comes as Long leads the response and relief efforts for Hurricane Florence — a massive storm system expected to make landfall Friday along the Carolina coastline and leave major damage in its path.
This also comes as the Trump administration is under fire for its response to Hurricane Maria in Puerto Rico last summer, which in August saw the official death toll climb to nearly 3,000, as well as its decision to divert $10 million from FEMA's budget to cover the costs of detaining immigrants who crossed the border.
Politico reported Long's use of government vehicles has led to problems between him and his boss, DHS Secretary Kirstjen Nielsen — who asked him to think about resigning. Long refused, according to Politico.
Today in Trump's America: The final primary of 2018
We've reached the end of primary season, as voters in New York head to the polls to choose their nominees for state offices.
The marquee race is the Democratic gubernatorial primary between Gov. Andrew Cuomo and actress and activist Cynthia Nixon.
The race has grown ugly in the final days after the New York Democratic Party sent a mailer accusing Nixon of not standing up to anti-Semitism. (Nixon is raising her children Jewish and attends a temple in New York.)
Still, polls show Cuomo with a commanding lead. If Nixon wins, or even comes close to winning, pollsters will have a lot of explaining to do.
The race for attorney general to replace the disgraced former state AG Eric Schneiderman is another one to watch. It's a three-way Democratic primary between New York City public advocate Tish James, out as gay Democratic Rep. Sean Patrick Maloney and law professor Zephyr Teachout.
The few public polls in the contest show the race is close. James has tied her fate to Cuomo, while Teachout has the backing of Sen. Bernie Sanders (I-Vt.).
The attorney general job is important. Not only is the AG the head law enforcement officer in the state, but they have the ability to investigate Trump's businesses located in New York. The job is a launching pad for other offices, including governor of the state.
There are also a handful of state Senate primaries that could determine whether Democrats take back control of the chamber. A handful of "turncoat" Democrats, who belong to the Independent Democratic Conference, have been caucusing with Republicans, giving the GOP a majority in the state. But if Democrats oust those members in primaries, they could win back control, giving Democrats an easier route to pass progressive policies in the state.
And the rest...
Migrant children: The number of migrant children detained after crossing the border is at the highest level ever recorded, with 12,800 children in custody, according to the New York Times. That's immensely higher than the 2,400 children who were in custody roughly a year ago in May 2017, according to the New York Times' report.
Kavanaugh apologizes to Parkland father: Supreme Court nominee Brett Kavanaugh apologized for not shaking the hand of Fred Guttenberg, father of one of the students killed in the shooting in Parkland, Florida in February. "In that split second, I unfortunately did not realize that the man was the father of a shooting victim from Parkland, Florida," Kavanaugh wrote in response to written questions from Democratic senators. "Mr. Guttenberg has suffered an incalculable loss. If I had known who he was, I would have shaken his hand, talked to him, and expressed my sympathy. And I would have listened to him."
Speaking of Kavanaugh… Politico reports Kavanaugh was more involved in a controversial judicial nomination than he let on in a 2006 Senate hearing to become a judge on the Court of Appeals for the D.C. Circuit. Democrats say the emails raise questions about his truthfulness.
As for Kavanaugh's confirmation… Sen. Susan Collins (R-Maine) will still not say how she'll vote on Kavanaugh's nomination, as she faces immense pressure to vote against him over fears he'll overturn Roe v. Wade, the landmark case guaranteeing the right to an abortion. Kavanaugh can lose two GOP votes and still be confirmed, as Vice President Mike Pence would break a tie.