Rihanna's Savage X Fenty NYFW show praised for casting models of diverse shapes, sizes and colors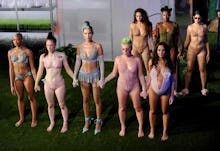 Rihanna debuted her latest Savage X Fenty lingerie collection at New York Fashion Week in New York City on Wednesday night and everyone is raving about the diversity of the models featured in the showcase. The singer casted women in a range of sizes, heights, skin tones and shapes, and even pregnant models. The effort is being called groundbreaking for the lingerie space.
For those following the Savage X Fenty collection since day one, this may not be a surprise. The brand's ads and online community began with diversity in mind and features images of women from plus-size to slim wearing the lingerie collection. But to many, it was still beautiful to see these images brought to life on the runway during one of the world's biggest fashion events.
Model Justine Biticon was one of the fans who praised Rihanna's Garden of Eden-themed fall/winter 2018 presentation.
"She created a lingerie line for all shapes, colors and sizes and put women of ALL shapes, colors and sizes on the runway," Biticon said. "She put inclusion on a whole other level and other designers need to take notes."
"Rihanna cleary doesn't play when it comes to diversity," another admirer of the show wrote on Twitter Wednesday night.
Here is a roundup of photos from the show at the Navy Yard in Brooklyn, New York City, featuring models Gigi Hadid, a pregnant Slick Woods and more models, showing what it means to be inclusive on the runway.