Mic expands Snapchat offering with launch of Curated Our Stories channel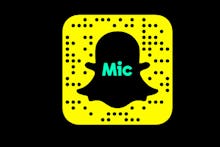 Digital publisher to curate user-generated content into editions focused on culture, social justice and politics
Today Mic announced it is a launch publishing partner in Snap's Curated Our Stories, where it will curate public Snaps into stories around social and cultural events aligned to Mic's core coverage areas. The new channel will focus on news and topics of high relevance to Mic's audience, curating Snaps and soliciting original user-generated content footage on such subjects as reactions to pop culture, trends and debates on college campuses, student activism and social justice.
"Curated Our Stories presents a nice opportunity for Mic to connect more meaningfully with our audience and build community around our storytelling," Sarah Singer, executive producer at Mic, said. "Since launching on Snapchat Discover we've seen high engagement in our stories around Mic's coverage of cultural change. This new functionality allows us to strengthen that approach by bringing in our audience's experiences and telling the story from their eyes."
Since launching on Snapchat Discover in July, the company has reached millions of users each month, the majority of which are within Mic's core audience demographic of 18- to 34-year-olds. Mic's approach on Snapchat Discover reflects the personal and diverse voices its daily news coverage takes, featuring Mic correspondents who serve as characters, tour guides and experts as they report from the scene and speak directly to the audience.
Mic will be launching its Curated Our Stories channel in the coming weeks. To subscribe to Mic's channel on Snapchat Discover, follow this link.