5 black trans women have been killed in Florida in 2018 — Londonn Moore Kinard, 20, is the latest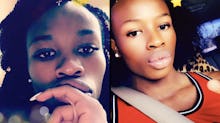 Yet another black transgender woman has been killed in Florida, the fifth reported death of a trans woman in the state so far in 2018.
The victim, identified by the activist blog TransGriot as Londonn Moore Kinard, 20, was found dead Saturday in North Port, Florida. According to local news stations WBBH/WZVN, Kinard was found fatally shot on Saturday morning. (The report "deadnames" Kinard, or refers to her by an incorrect name).
The stations reported that local police are considering the possibility that Kinard's murder could have been a hate crime. "We have no information at this point that it was a hate crime" Joshua Taylor of North Port Police Department told WBBH/WZVN. "However, it's on the table, certainly it could come out that way. Part of figuring out why it was done includes talking to who did it. We have to get to that point."
Hal Trejo, a of the Florida-based LGBTQ community group All Rainbow and Alllied Youth, told the stations that Kinard's death is part of a worrying trend. "It's the fifth [trans] person [killed] in Florida alone this year, so we see its a huge crisis and needs to be addressed and talked about."
In July, 27-year-old Sasha Garden was found dead in Orlando, Florida. And in Jacksonville alone, three more trans women of color — Celine Walker, Antonia English and Cathalina Christina James — have been killed in 2018, a spate of killings that sparked fear among local advocates that a killer might be specifically targeting trans women.
And now Florida's trans community is mourning yet another loss. After news of Londonn Moore Kinard's death, the Transgender Law Center issued a statement calling for a national "moment of silence and action" on Friday, urging participants to "go outside with your friends, loved ones, classmates and coworkers, say the names of the black trans women we've lost this year, hold a moment of silence and demand action for black trans lives."