Trump administration reaches court agreement over family separation policy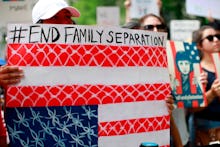 After months of chaos at the border, the Trump administration reached an agreement in court on Wednesday that would allow many of the immigrant families it separated to seek asylum in the United States.
Although the initial legal challenge, which was brought by the American Civil Liberties Union, remains ongoing, the agreement marks a significant departure from the stepped-up enforcement policies announced by Attorney General Jeff Sessions this spring, under which the administration strained to prosecute every immigrant who entered the country without authorization.
"This agreement would give many families a second chance at seeking asylum and leaves open the possibility for some deported parents to return to the United States," Lee Gelernt, deputy director of the ACLU's Immigrants' Rights Project, said in a statement.
"The Trump administration will never be able to erase the full damage of its family separation policy, but this agreement is an important step toward restoring and protecting the asylum rights of impacted children and parents going forward," he said.
Although the government noted it did not have any immediate plans to bring back asylum seekers that had already been deported under the old policy, the agreement grants United States Citizenship and Immigration Services the leeway to reconsider some of those cases on an individual basis.
In February, the ACLU filed suit against the Trump administration over its decision to separate a mother seeking asylum from the Democratic Republic of Congo from her 7-year-old daughter. After Immigrations and Customs Enforcement began ramping up separations of thousands of Central American migrant children from their parents in the months that followed, the lawsuit was expanded to include a larger class of people.
Meanwhile, on Wednesday the New York Times reported that the number of migrant children in U.S. custody has now reached the highest levels ever, with an estimated 12,800 children residing in federally contracted shelters.
The bottleneck within the shelters has long threatened to overcome an already precipitously overcrowded and chaotic immigration system in America, with shelter capacity currently hovering somewhere around 90%.
"The closer they get to 100%, the less ability they will have to address anything unforeseen," Mark Greenberg, who oversaw the Department of Health and Human Services under former President Barack Obama, told the Times. "Even if there's not a sudden influx, they will be running out of capacity soon unless something changes."
Both the government and the ACLU will be back in court Friday.