Meet Drew Findling, the go-to lawyer for some of Atlanta's biggest rappers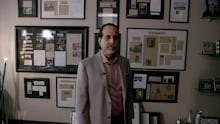 When hip-hop notables Migos, Gucci Mane, Waka Flocka Flame and newcomer Lil Baby face legal troubles, they call on criminal defense attorney Drew Findling. He was recently christened #BillionDollarLawyer by Memphis rapper Young Dolph because of his penchant for advocating for rap stars.
In the latest episode of Mic Dispatch, correspondent Chantel Simpson visits Findling's office in Atlanta to find out how he became a trustworthy ally for many in hip-hop and to discuss why these artists are unfairly targeted by law enforcement.
"I get phone calls from West Coast to East Coast, the Canadian border to the border of Mexico," Findling told Simpson of his demand in the hip-hop world. "If there's a hip-hop artist in trouble, I'll get a phone call."
The roots of Findling's career as the go-to hip-hop attorney began with him representing Demetrius Flenory, more commonly known as Big Meech. He and his brother Terry ran Black Mafia Family, a drug-trafficking ring in Atlanta, throughout the 1990s and early 2000s and helped launched the careers of Atlanta rappers such as Young Jeezy. Findling represented Meech when he was charged with murder in the deaths of two men outside of a nightclub in Atlanta in 2003.
"I threw a couple big hearings and the case fell apart because Meech was really innocent of those charges," Findling said. "And I had no knowledge at that time, and as people have told me in the years that passed, my name became popular in the street, and one guy that came along the way was named Radric Davis."
Davis, also known as Gucci Mane, was sentenced to 39 months in prison in August 2014 after pleading guilty to a charge of firearms possession by a convicted felon. Because he had already been held in custody for 11 months, his sentence was reduced to 28 months. Findling fought for Gucci Mane to be released from prison four months early in May 2016.
Findling often brings up race as a factor in why his clients are vulnerable to arrests. For instance, in July, Migos member Offset was pulled over in his Porsche because the vehicle did not stay in its lane. He and his bodyguard were arrested after police found less than an ounce of marijuana and three guns in the car.
When commenting on the arrest, Findling said the police needed "a pretextual reason to pull over a young black man in a shiny, beautiful, luxury car," according to the Los Angeles Times. "This is clearly what is known as a pretextual stop — coming up with a reason to approach the car —  because of the vehicle he was driving."
"There's a tremendous amount of money in this industry and law enforcement is clueless," Findling told Simpson. "So what will happen is, they'll see a young African-American man driving a shiny, beautiful, $350,000 car, he is laden with diamonds, and there's automatically an assumption that he's a gang member or he must be a drug dealer."
The rappers Findling represents are among the black and brown people who go to jail for longer periods of time than white people for the same crimes. This disparity is well-outlined in a 2017 report from the United States Sentencing Commission. For instance, black men receive federal prison sentences nearly 20% longer than white men with the same convictions.
As president of the National Association for Criminal Defense Attorneys, Findling speaks out about these injustices. He brings up Meek Mill as an example during an interview with civil rights attorney and radio host Robert Patillo. In November, Mill was sentenced to two to four years in state prison for a probation violation. At the time the American Civil Liberties Union of Pennsylvania, Jay-Z and Meek Mill fans spoke out against the extremity of the sentencing. In April, Meek Mill was released from prison on bail.
"Those of us in the business, we know that there are three problems with the criminal justice system: racism, mass incarceration and the issue of collateral consequences, alright," Findling said.
Ultimately, Findling is hoping that through his work he can be part of dismantling the issues of racism in the criminal justice system.
"I really dedicate a tremendous amount of my time to addressing the issues of mass incarceration, racism in the criminal justice system," he said. "For the most part you're talking about some really nice, young, creative, people that, even though I don't really listen to hip-hop, they're artists and they're expressing themselves."
Check out episode 24 of Mic Dispatch above — only on Facebook Watch.
To catch future episodes of Mic Dispatch, follow Mic Dispatch on Facebook Watch. For more stories about the show, visit the Mic Dispatch collections page.