Emails show Berkeley police department has policy of tweeting photos and info of arrested protesters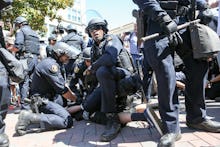 At many far-right rallies, but more often at anti-racist protests, demonstrators are rounded up and arrested and frequently charged. The charges following these demonstrations are frequently dismissed. But when the local police tweet out a protester's name, photograph, alleged crime and hometown, that information can follow them for the rest of their lives, exposing them to threats and harassment.
Newly released emails show that in response to increased anti-racist protests, the Berkeley Police Department developed an internal policy of tweeting out the photos and personal information of arrested protesters. According to emails obtained by Berkeley Copwatch and Lucy Parsons Labs, a police accountability group, Berkeley police both "used social media to help create a counternarrative" that would be friendly to police and collaborated with the city attorney on the specific language it used to describe arrest charges.
Berkeley police's "doxxing" of activists first raised alarm bells in August, when police arrested 20 anti-racist protesters at a right-wing rally in the city. Afterward, the department posted online many of the activists' names, ages, cities of residence, alleged offenses and mugshots.
In the emails, Berkeley police boasted of the "unusually deep and broad publication and attention" of their tweets containing mugshots of protesters, citing numbers like "8,040 retweets" and "1,728,529 impressions."
"The message had a deep impact on the narrative about the city's ability to enforce [the] rule of law," the internal report said. "Almost immediately, the narrative about BPD and the city changed online and in media."
The internal policy, according to the emails, was first implemented in September 2017, when nine demonstrators were arrested at a protest against right-win commentator Ben Shapiro. Five arrestees were later doxxed on Twitter. Ultimately, the protesters were either not charged or had their charges dismissed in court.
One of the researchers who obtained the emails suggested the release of arrested protesters' private information allows police to expose demonstrators to intimidation and reputational damage without having to go through the ordeal of locking up protesters.
"We've been told that some of those arrested that day, particularly women, faced death threats and threats of sexual assault," the researcher, who asked that their name be withheld based on their own prior arrest, said Thursday in a phone interview with Mic. "It builds a climate of fear for those who are out protesting."
Berkeley isn't the only city whose officers have publicly posted mugshots to expose protesters. The Guardian documented similar incidents in St. Louis and Portland, Oregon, where Black Lives Matter activists and other counter-protesters have been doxxed by police officers after they were arrested at protests.
Journalists can be complicit in exposing the identities and faces of arrested protesters to the public, too. At a neo-Nazi rally in April in Newnan, Georgia, coverage from the local Newnan Times-Herald focused not so much on the presence of white supremacists and neo-Nazis in its town, but on the mugshots of the 10 arrested anti-racist protesters, several of whom were arrested at gunpoint by militarized police officers with rifles. After the Shapiro protest in Berkeley in September 2017, the Mercury News led one of its news stories with the mugshots of several arrested demonstrators.
If Berkeley police won't put a stop to its policy, the citizens of Berkeley might. On Thursday night, the Berkeley City Council will vote Thursday night on a resolution preventing the department from publishing photos of "individuals arrested in First Amendment activity."
City spokesman Matthai Chakko said Berkeley has become a unique epicenter of political street violence, describing the series of protests and clashes as an "unprecedented effort to bring violence into our city." The department's social media strategy is to let residents know the police are out in force, he added.
"Our message is that we have laws and we will enforce them," Chakko said in a phone interview. "And the easiest way to not have their photo posted would be to not break the law."