While You Weren't Looking: 5 stories from Trump's America that aren't about hurricanes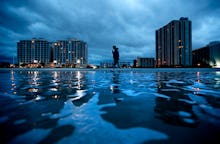 As Hurricane Florence's winds buffeted the North Atlantic at speeds of more than 100 mph this week, President Donald Trump was huffing and puffing on Twitter about a different storm.
Trump on Thursday pilloried the findings of an independent report conducted by the George Washington University Milken Institute School of Public Health and commissioned by the government of Puerto Rico that claimed nearly 3,000 people died in the aftermath of 2017's Hurricane Maria.
"3000 people did not die in the two hurricanes that hit Puerto Rico," the president tweeted Thursday. "When I left the Island, AFTER the storm had hit, they had anywhere from 6 to 18 deaths. As time went by it did not go up by much. Then, a long time later, they started to report really large numbers, like 3000."
Trump continued in a second tweet, claiming the report was the handiwork of Democrats trying to make him "look as bad as possible when I was successfully raising Billions of Dollars to help rebuild Puerto Rico."
"If a person died for any reason, like old age, just add them onto the list," he wrote. "Bad politics. I love Puerto Rico!"
With the winds of political misfortune at our backs, here are five other stories from the Trump administration you might have missed.
Thousands in Arkansas lose Medicaid, thanks to Trump's new work requirements
Thousands of Arkansas' poorest residents were removed from the Medicaid rolls this week after failing to meet new work requirements implemented by the Trump administration in June.
Republican Gov. Asa Hutchinson announced Wednesday that out of a group of nearly 26,000 people who became subject to the new guidelines in the spring, 4,353 have since been deemed ineligible for the safety-net health insurance program.
Under the new requirements, able-bodied Medicaid recipients must report their hours worked — or "other community engagement," according to the Washington Post — to the state each month or else risk losing their insurance.
While Hutchinson noted he "didn't like that number," he said he believes the new requirements will help foster values such as hard work and personal responsibility.
"We will continue to do everything we can to ensure those who qualify for the program keep their coverage, but it is equally important that we make sure those who no longer qualify are removed," Hutchinson said Wednesday.
State Department alters website language for gender changes on U.S. passports
The State Department this week quietly changed website language concerning a request for a gender change on a U.S. passport, a move LGBTQ advocates worry is an attempt to "stigmatize, erase and exclude transgender people," Rolling Stone reported Thursday.
According to Rolling Stone, the department removed an existing webpage that called "Gender Designation Change" and replaced it with a new one labeled "Change of Sex Marker." The word "gender" was swapped out for "sex" across the site and a new list of FAQs was added, including one that specifically noted nonbinary gender identity would not be a designation option for U.S. passports.
"The sex marker may not match the gender in which you identify," the website now states.
National Center for Transgender Equality founder Mara Keisling told Rolling Stone the move "seems designed to frighten, confuse and keep transgender people from exercising their full rights under the current policy — the same policy we fought for and won in 2010."
"Transgender people can and absolutely should continue to update and renew their passports," Keisling added. "That is our right and that should always be our right."
John Bolton threatens the International Criminal Court with sanctions
National security adviser John Bolton threatened the International Criminal Court with sanctions Monday after the court threatened to launch a probe into war crimes in Afghanistan.
"The United States will use any means necessary to protect our citizens and those of our allies from unjust prosecution by this illegitimate court," Bolton said in a speech to the Federalist Society in Washington, D.C. "We will ban its financial system and we will prosecute them in the U.S. criminal system. We will do the same for any company or state that assists an ICC investigation of Americans."
Bolton added the U.S. would monitor which countries cooperate with the ICC and "will remember that cooperation when settling U.S. foreign assistance, military assistance and intelligence sharing levels."
Bolton has long been at odds with the court and its agenda. In 2002, during his time as under secretary of state for arms control and international security under former President George W. Bush, he led a coalition that included the U.S., Israel, China and Saudi Arabia in refusing to ratify the ICC's founding document on the grounds its existence could render "unacceptable consequences for our national sovereignty."
EPA prepares to gut methane emissions requirements
The Environmental Protection Agency is readying plans to hobble an Obama-era policy requiring companies to monitor and remedy methane leaks, the New York Times reported Monday.
The move comes as the Interior Department reportedly prepares to repeal a restriction on the burning of methane from drilling operations.
The proposal is the latest in a string of efforts by the Trump administration to enact major, climate-unfriendly policies. The EPA in August moved to weaken restrictions on carbon dioxide pollution emitted from vehicle tailpipes; that same month, the agency proposed undoing Obama-era restrictions on emissions from coal-burning power plants.
Interior Secretary Ryan Zinke seeks to ease wildlife restrictions
Interior Secretary Ryan Zinke this week "reaffirmed" the power of states to exercise their own fish and wildlife policies. In a Monday memo, Zinke instructed staffers to identify states where federal land policies are more stringent than local provisions and to massage those policies to better align with state-level requirements.
"The department recognizes states as the first-line authorities for fish and wildlife management and hereby expresses its commitment to defer to the states in this regard except as otherwise required by federal law," Zinke wrote.
The memo was released by Public Employees for Environmental Responsibility, a nonprofit environmental protection group that has repeatedly butted heads with the Trump administration over its lack of commitment to protecting wildlife and biodiversity.
"This across-the-board abandonment of federal fish and wildlife safeguards is rooted in an ideological stance unsupported by any factual analysis," the organization's executive director, Jeff Ruch, said in a statement. "Federal parks, preserves and refuges have a mission to protect biodiversity and should not be reduced to game farms."