Hype Daily: Olivia Munn gets a powerful thank you and more entertainment news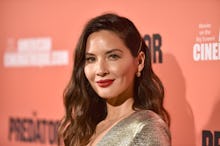 Welcome to Hype Daily, Mic's morning entertainment roundup. Here's everything you need to catch up on in the entertainment world and what to look forward to today. Want to receive this as a daily email in your inbox? Subscribe here.
TGIF, friends — it's finally the end of the week and we've got some entertainment news to recap before we all sail off into the weekend!
The young woman who had been abused by an actor in The Predator thanked Olivia Munn for speaking out
The woman who, as a minor, was victimized by an actor in the upcoming film The Predator has come forward to publicly thank the film's star, Olivia Munn, for speaking out. When Munn discovered Steven Wilder Striegel, whom she acted with in the film, was a convicted sex offender, she alerted 20th Century Fox and Striegel's scene was cut from the movie. But Munn said later she felt isolated and unsupported by her fellow cast members after taking a stand.
On Thursday, the Los Angeles Times published a statement from Paige Carnes, the woman involved in the case, thanking Munn for speaking up. "I am also eternally grateful for Olivia Munn's action," she wrote.
"She spoke up for me. She took a stance for me. In turn she stood for all who have suffered like I have. To be acknowledged by a stranger, on a public platform about this issue is incredibly empowering. The positive feedback from social media towards Olivia Munn is uplifting and feels incredibly supportive for me personally." Read the full statement here.
LeBron James is working on a woman-led basketball drama for NBC
LeBron James, the NBA star, actor and philanthropist who is somehow in a million places at once, is also working on a new show for NBC, the Hollywood Reporter reported Thursday. James will executive produce the new hour-long series, titled Hoops, that follows a former WNBA star who comes back to her alma mater to become the first woman head coach of a men's college basketball team. Sign me up!
Cynthia Erivo will play Harriet Tubman in a biopic
Cynthia Erivo, the singer, actor and Broadway star who's in the upcoming Steve McQueen film Widows, has been tapped to play abolitionist hero Harriet Tubman in a new biopic, Deadline reported Thursday. Erivo will star in the new film, dubbed Harriet, from Focus Features, which will follow Tubman's own escape from slavery and the subsequent risky missions she undertook to smuggle more people to freedom in the years leading up to the Civil War.
The Harriet cast also includes fellow Broadway star Leslie Odom Jr., as well as Joe Alwyn, Jennifer Nettles and Clarke Peters. Production starts next month in Virginia. Hopefully, this movie will dispel some of those fake Harriet Tubman quotes that keep floating around.
The first trailer for 'The Chilling Adventures of Sabrina' is out
The first trailer for the upcoming Netflix teen horror series The Chilling Adventures of Sabrina is here, and let me tell you, there are no wisecracking animatronic cats in this version of the story.
The new Sabrina stars Mad Men's Kiernan Shipka in the title role, as a teen who must decide whether to give up her mortal life and become a witch. The new trailer, which dropped Thursday, is genuinely scary. Watch it here.
Put this on your radar: A Simple Favor
The new thriller A Simple Favor, starring Anna Kendrick, Blake Lively and the Crazy Rich Asians heartthrob Henry Golding, has been getting solidly good buzz — and if you liked Gone Girl then you'll probably, definitely like this movie. The plot is a twisty-turny mystery, centered around an uptight mommy vlogger (Kendrick) and her new neighborhood BFF (Lively) who suddenly goes missing.
In her recent review, New York Times film critic Manohla Dargis called the film "sly and sweet with an acid finish," and "a female-friendship comedy with neo-noir ambitions." A Simple Favor hits theaters today, check out a trailer here.