"Get over it": Sessions issues guidance to fight injunctions against Trump administration policy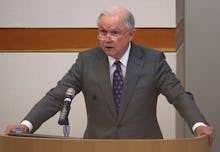 Attorney General Jeff Sessions is attempting to quash the nationwide injunctions that have blocked many Trump administration policies, issuing a new memo to U.S. attorneys to help them fight the legal challenges.
In a memo released Thursday, Sessions provides legal arguments for U.S. attorneys to use when fighting in court against a potential nationwide injunction against a Trump administration policy. The memo describes its purpose as ensuring litigators advocate "principled and consistent positions" and "take opportunities as appropriate to reaffirm the ... limitations on the remedial authority available to judges."
The memo includes such legal guidance as arguing that nationwide injunctions are "inconsistent with constitutional limitations on judicial power," inconsistent with past judicial practices, prevent a legal issue from being considered by other lower courts, interfere with other branches of government and undermine public confidence in the judiciary.
Courts have issued 25 nationwide injunctions against the Trump administration since the beginning of Trump's presidency, taking down such policies as the administration banning transgender individuals from serving in the military, barring "sanctuary cities" from receiving federal funding and ending the Deferred Action for Childhood Arrivals program. Several judges imposed nationwide injunctions on Trump's "travel ban" against citizens from several countries, but the policy was ultimately upheld by the U.S. Supreme Court.
Sessions introduced the new guidelines in a speech Thursday in Kansas City, Missouri, in which he decried the "activist judges" that have blocked Trump administration policies from taking effect.
"The obstructionism that this president has faced has little precedent in our history, if any," Sessions said Thursday. "Judges have been issuing an increasing number of orders that block the entire United States government from enforcing a law or policy. Not limited to the case or parties in front of them.  Not limited to their judicial district.  But everywhere."
"It is not the duty of the courts to manage this government or to pass judgment on or give final approval for every policy action the executive branch takes," Sessions continued. "The executive branch manages the government. And the president is the head of the executive branch. Get over it."
Sessions' new memo marks the Trump administration's latest attempt to rail against the judiciary branch as it blocks the administration's policies. Trump himself has frequently decried the judiciary system, describing the court system in January as "broken and unfair."