Botham Jean was killed in his own home — and now a local news report is criminalizing him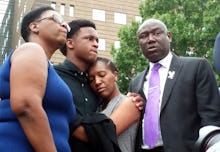 Botham Shem Jean was fatally shot by off-duty Dallas police officer Amber Guyger in his own apartment on Sept. 6. Guyger thought she had walked into her own apartment, and shot and killed him, reportedly thinking he was an intruder.
Guyger was charged with manslaughter on Sunday and was released from jail on a $300,000 bond. The case will be taken to grand jury.
Fox 4, a local Texas news station, reported Thursday that Dallas police had added the discovery of marijuana in Jean's home to the public record. According to Fox 4, a warrant listing several items found in Jean's house became public record after it was signed and returned to a judge. Among them were 10.4 grams of marijuana, according to Fox 4. According to the Jean family's lawyer, this was an attempt to smear his name.
"I think it's unfortunate that law enforcement begin to immediately criminalize the victim — in this case, someone who was clearly was the victim that has absolutely no bearing on the fact that he was shot in his home," Lee Merritt, the Jean family's attorney, said according to Fox 4. "I would love to see more information coming out about the warrants executed on the home of the shooter who lived just below him. I haven't seen any of those."
The response to the news of Dallas police criminalizing Jean was scathing. The tweet from Fox 4 has seen blowback in its positioning of the unfolding investigation.
This isn't the first time we've seen the narrative around police officer-involved shootings shift toward criminalizing the victim. In the case of Philando Castile, who was fatally shot in July 2016, former Minnesota police officer Jeronimo Yanez noted that the smell of marijuana made him fear for his life.
The Florida judge who presided over the George Zimmerman trial allowed in evidence that Trayvon Martin, the 17-year-old Florida teenager who was fatally shot by Zimmerman in 2012, had used marijuana.
In the shooting death of Jean, it is not clear whether Dallas police has issued warrants to search Guyger's apartment as well.