Paul Manafort pleads guilty, agrees to cooperate with Mueller's team in blow to Trump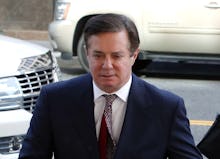 Former Trump campaign chairman Paul Manafort pleaded guilty Friday to two counts of conspiracy to defraud the United States and conspiracy to obstruct justice, a move that lets him avoid a second trial, which was slated to begin Monday in Washington, D.C.
In exchange for pleading to fewer charges, Manafort agreed to cooperate with special counsel Robert Mueller's team — a major blow to President Donald Trump, who at one point praised Manafort for not "flipping."
"I feel very badly for Paul Manafort and his wonderful family," Trump tweeted after Manafort was convicted in August. "'Justice' took a 12 year old tax case, among other things, applied tremendous pressure on him and, unlike Michael Cohen, he refused to 'break' - make up stories in order to get a 'deal.' Such respect for a brave man!"
It's unclear how Trump will react now, given that Manafort is now cooperating.
The guilty plea comes after prosecutors on Mueller's team filed a superseding criminal information against Manafort on Friday.
The 38-page document lays out the facts of the charges Manafort pleaded guilty to, including "a conspiracy against the United States (money laundering, tax fraud, failing to file Foreign Bank Account Reports, violating the Foreign Agents Registration Act and lying and misrepresenting to the Department of Justice) and a conspiracy to obstruct justice (witness tampering)."
Manafort pleaded guilty Friday morning at a federal courthouse in Washington, D.C., where he told the judge he understood that his plea agreement could be used against him in other cases down the road.
That raises the possibility that Manafort could be charged with state crimes — which cannot be pardoned by the president.
11:31 a.m. Friday, Sept. 14, 2018: This article has been updated.