A scammer behind hundreds of fake reviews on TripAdvisor receives 9-month prison sentence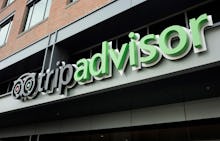 Anyone can be a product expert or a restaurant critic on sites like Amazon and Yelp. But one individual is paying the ultimate price for fake "expertise" on a popular travel site.
According to Skift, an owner of a company that sold fake review packages to hotels was sentenced to a nine-month prison sentence in June, for hundreds of posts with a false identity on TripAdvisor — the home to 600 million plus "unbiased" traveler reviews.
As early as 2015, TripAdvisor first identified fake reviews under several account names created by a company called PromoSalento. According to its website, the company is a visual advertising and marketing company based in Lecce, Italy. But its advertising efforts included paid review fraud, according to Skift, where one receives compensation for positive reviews of restaurants and hotels. TripAdvisor tracked the Italian company and its owner, blocking or removing more than 1,000 attempts of fraudulent reviews on the site and working with law enforcement to conduct an investigation.
"TripAdvisor supported the prosecution of PromoSalento as a civil claimant by sharing evidence from its extensive in-house fraud investigations and providing support from its Italian legal counsel," TripAdvisor said in a statement. "Review fraud is something TripAdvisor takes extremely seriously, employing advanced tracking technology and a dedicated team of investigators to catch paid review companies and prevent them from operating on the site."
In addition to jail time, the owner of PromoSalento will also pay approximately 8,000 euros, or about $9,310, in costs and damages, as ordered by an Italian court. "We see this as a landmark ruling for the Internet," Brad Young, the vice president and associate general counsel of TripAdvisor, said in a statement. "Writing fake reviews has always been fraud, but this is the first time we've seen someone sent to jail as a result."
Legislation over fake reviews is stricter in the EU
In 2005, the European Union enacted legislation known as the Unfair Commercial Practices Directive, holding businesses accountable for misleading advertising. According to Shannon Wilkinson, CEO of Reputation Communications, the rules in the U.S. governing false reviews, however, are far more lenient. In 1996, the U.S. introduced the Communications Decency Act which freed website owners from liability from what is published on them, and in turn, is keeping the business of fake reviews alive and well, Wilkinson said in an email.
And TripAdvisor isn't the only review site with a number of fake reviews. In 2014, a Virginia court ruled that a one-star Yelp review by a woman who alleged that a local contractor damaged her home was deemed defamation. And according to a 2017 report by NBC Los Angeles, as many as one in four reviews on Yelp are fake, biased or considered by the review site to be unhelpful rants and raves. Amazon has even sued over 1,000 sellers over false reviews, according to NPR, though the problem is still rampant — and may be worse than ever.
How to spot a fake review
Given the number of fake reviews on sites like Yelp and TripAdvisor, how can you know what to trust? Wilkinson said there are a number of ways to separate the real from the fakes. For one, be wary of a profile with no photo, name or little review history, she said, adding that fake reviews are often written by accounts that haven't reviewed many businesses.
She also said to use caution with glowing reviews, or extremely negative ones, which may be fake, or at the very least, biased. According to TripAdvisor's website, while the business of positive reviews is alive and well, the opposite also exists, with many reviews intentionally discrediting businesses. "Most biased negative reviews come from one of two sources — either from someone connected to a rival establishment, or from someone who is trying to blackmail a business by threatening to submit a false negative review."
In June, one restaurant received an overwhelmingly polarizing flood of one and five-star reviews on Yelp after press secretary Sarah Huckabee Sanders was asked to leave by its owner. The page soon became a political battleground among supporters and critics, forcing Yelp to deploy an "Active Cleanup Alert" on the restaurant's page, effectively locking the page from more reviews. "While we don't take a stand one way or the other when it comes to these news events, we do work to remove both positive and negative posts that appear to be motivated more by the news coverage itself than the reviewer's personal consumer experience with the business," the alert on Yelp read.
With any review, whether positive or negative, it's best to practice a degree of caution, Wilkinson said. A recent study found 85% of consumers trust online reviews as much as they trust personal recommendations, and 49% of consumers won't even use a business without at least a four-star rating.
"Anyone can become a reviewer," Wilkinson said. "There is little to no verification. Like Facebook and Twitter, or any online dating site, it is very easy to establish a fake profile, and unhappy customers are more likely to post a review than a satisfied one. So we consumers do our best to weed out the fakes. No one really thought about fake news, or all of the issues so many platforms face now — and here we are."