Who's Sorry This Week? Eminem is sorry he used a slur and other public apologies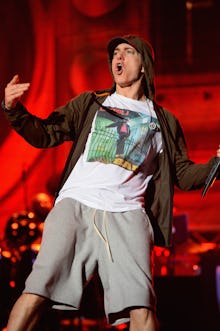 As September gets into full swing, so do the high-profile celebrity apologies.
In Who's Sorry This Week? Mic tracks down the most prominent mea culpas from celebrities, companies and other public entities trying to make amends for their various screw-ups.
Let's get into them, shall we?
Norm Macdonald said horrible things and then apologized with a horrible apology
Comedian Norm Macdonald had to do double apologies this week — first he apologized for an interview he gave in the Hollywood Reporter in which he said his disgraced friends Louis C.K. and Roseanne Barr had lost "everything" and their "victims didn't have to go through that." In the same interview, Macdonald said, "I'm happy the #MeToo movement has slowed down a little bit."
But his apology tour for the comments was also incredibly terrible. In an interview with Howard Stern this week, he said, "I never defended them [C.K and Barr]," adding, "I am completely behind the #MeToo movement ... You'd have to have Down syndrome to not feel sorry for — #MeToo is what you want for your daughters, and you want that to be the future world, of course."
So then Macdonald apologized again, this time for mocking people with disabilities. "There used to be a word we would all say to mean 'stupid' that we don't say anymore," Macdonald said on The View this week, according to the New York Times. "Right? You know the word I'm talking about ... Stupidly, I was about to say that word and I stopped and said, 'What's the right word to say?'"
"I realized at that moment that I had done something unforgivable," Macdonald said of his "Down syndrome" comment. Then he added, "It's always bad when you have to apologize for the apology." Well, he's not wrong about that.
Shane Black apologized again for casting his friend, a sex offender, in The Predator
Director Shane Black made it into this column last week with his first apology for casting his friend, Steven Wilder Striegel, a registered sex offender, in his new movie The Predator. Now he's apologizing again, telling the Associated Press in a red carpet interview, "I made an error in judgement that is irresponsible … I was the captain of that ship. It's my job to make sure those things don't happen, and I failed. I take full responsibility. I'm very deeply sorry."
He continued, "I think about this a lot. I hope I learn from this because it really bothers me that this movie … has been overshadowed in some ways by a stupid decision that I made. I'm very sorry to anybody."
That "stupid decision" came to light when The Predator star Olivia Munn found out about Striegel's conviction, which involved a victim who was a minor at the time. Munn told 20th Century Fox, the studio behind the film, and the scene with Striegel was pulled. But Munn later said she felt isolated by the lack of immediate support from her costars and from Black, who had known about Striegel's past the whole time.
Eminem is sorry for using a homophobic slur about Tyler, the Creator
Rapper Eminem apologized for a line in his new song "Fall" in which he uses a slur about fellow musician Tyler, the Creator, Vulture reported on Friday. The line goes, "Tyler create nothin', I see why you called yourself a faggot, bitch." In an interview with rapper and reporter Sway about his new album Kamikaze, Eminem said he wrote the line after Tyler's tweets dissing his music.
"I think the word that I called him on that song was one of the things where I felt like, 'This might be too far,'" Eminem said in the conversation with Sway. "Because in my quest to hurt him, I realize that I was hurting a lot of other people by saying it." Check out video of the interview below.