Brett Kavanaugh's high school classmate accuses him of sexual misconduct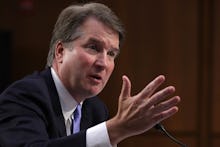 After Sen. Dianne Feinstein on Thursday announced she had referred a letter containing information about Supreme Court nominee Brett Kavanaugh to the FBI, the New Yorker on Friday reported that the letter details allegations made by a woman who said Kavanaugh attempted to force himself on her when they were in high school.
According to the New Yorker, the woman alleged that during a party more than three decades ago, when Kavanaugh was attending high school at Georgetown Preparatory School in North Bethesda, Maryland, he and a classmate held her down and turned up the music in the room to mask the sound of her protests. She alleged that Kavanaugh then attempted to force himself on her, and covered her mouth with his hand.
In a statement obtained by the magazine, Kavanaugh said, "I categorically and unequivocally deny this allegation. I did not do this back in high school or at any time."
The unnamed classmate also claimed to have "no recollection of that."
After struggling with whether or not to come forward with her story, the woman reportedly contacted her congresswoman, Anna Eshoo, who reportedly passed the information along to Feinstein.
In the immediate aftermath of the report's release on Friday, Senate Judiciary Committee Chairman Chuck Grassley (R-Iowa) released a letter signed by 65 "bipartisan women" who claimed to have known Kavanaugh in high school and wanted to attest to his character.
"We are women who have known Brett Kavanaugh for more than 35 years and knew him while he attended high school between 1979 and 1983," the letter read. "For the entire time we have known Brett Kavanaugh, he has behaved honorably and treated women with respect."
Sept. 14, 2018, 1:53 p.m.: This article has been updated.