This Week in Trump-Russia News: Manafort could now become the president's worst nightmare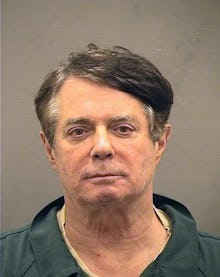 Special counsel Robert Mueller's team scored a huge win on Friday, when they secured a cooperation agreement and guilty plea from former Trump campaign chairman Paul Manafort.
Manafort agreed to plead guilty to a reduced number of charges and forfeit $46 million worth of assets — including, ironically, his apartment in Trump Tower — in exchange for his cooperation in Mueller's investigation.
It's not immediately clear what information Manafort has regarding Mueller's investigation into a possible conspiracy between the Russians meddling in the election and the Trump campaign.
But what we do know is that Manafort's cooperation puts Mueller's investigators directly inside the room in Trump Tower that played host to the now-infamous meeting, in which a Kremlin-connected lawyer had lured Manafort, first son Donald Trump Jr. and Trump's son-in-law Jared Kushner under the guise of offering dirt on Hillary Clinton.
That meeting has been a key focus of Mueller's probe.
It's also unclear whether Manafort has any information to give Mueller on President Donald Trump himself.
However, Trump's personal lawyer Rudy Giuliani downplayed Manafort's guilty plea and cooperation agreement.
"Once again, an investigation has concluded with a plea having nothing to do with President Trump or the Trump campaign," Giuliani said in a statement to BuzzFeed News. "The reason: the president did nothing wrong."
The White House is also downplaying Manafort's plea deal.
"This had absolutely nothing to do with the president or his victorious 2016 presidential campaign," press secretary Sarah Huckabee Sanders said in a statement. "It is totally unrelated."
While Manafort's plea was the biggest moment of the week in Trump-Russia news, here are some other things that happened:
Prosecutors back away from claim that alleged Russian spy traded sex for access
Federal prosecutors this week said they were "mistaken" when they said that Maria Butina, a former American University student accused of being a Russian spy, "traded sex for access," according to USA Today.
Prosecutors made that claim based on text messages they had obtained from Butina's phone, which Butina's attorney Robert Driscoll described as "an innocuous three-year-old text exchange sent in Russia between Ms. Butina and ... her longtime friend, assistant and public relations man," according to USA Today's report.
U.S. District Judge Tanya Chutkan said she was "dismayed" by the prosecution's mischaracterization of Butina's messages, which she said "damaged [Butina's] reputation."
But Chutkan went on to deny Butina's request to be placed on house arrest, rather than in an Alexandria jail — where she's been held since her arrest on July 15.
"There is a real risk of flight," Chutkan said about why she refused to allow Butina out of prison.
Trump signs executive order on Russian election interference
Trump signed an executive order on Wednesday that would punish foreign countries that try to interfere in American elections, imposing sanctions on those foreign entities who are found to be meddling.
The executive order — which had reportedly been in the works for months — is an attempt to deter election meddling.
"This is not a single solution," an administration official told the Wall Street Journal. "But it makes a clear statement by the president that this sort of activity will not be tolerated and will be punished."
Trump, for his part, has continually cast doubt on Russia's interference in the 2016 election, including during a news conference alongside Russian President Vladimir Putin in July.
"My people came to me, [Director of National Intelligence] Dan Coats came to me, some others, they said they think it's Russia," Trump said at that press conference in Helsinki. "I have President Putin. He just said it's not Russia. I will say this, I don't see any reason why it would be."