Major right-wing conference will host European nationalist politicians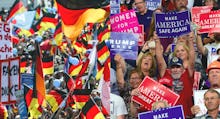 This weekend, some of America's most bombastic conservative leaders and provocateurs are converging on St. Louis, Missouri, for a right-wing convention known as the Eagle Council.
Many of the speakers at the 50-year-old convention are household names: alt-right conspiracy theorist Mike Cernovich, President Donald Trump's former national security adviser Michael Flynn, Candace Owens and Charlie Kirk of Turning Point USA. Nativist hero Sheriff Joe Arpaio will give the keynote address, and this year's award for "Excellence in Leadership" will go to Iowa Congressman Steve King, who can't go more than a few months without retweeting white nationalists.
But two names in particular stand out among the lineup of speakers for the 50th iteration of the convention. This year's conference will feature Petr Bystron and Dominik Tarczynski. Both are members of parliament of European countries — Bystron from the far-right Alternative for Germany and Tarczynski from the nationalist ruling party of Poland. They're only the latest of many nationalist European politicians courted by the pro-Trump American right, which is taking an increased interest in the rapid spread of far-right populism across Europe.
Those who are worried about the rise of nativism, populism and xenophobia in the United States should tune in to what's happened in Europe over the past few years. Bound together by opposition to Muslims and refugees, and exacerbated by economic crises across the continent, anti-immigrant political parties have gained new footholds in France, Sweden, Austria and Italy, to say nothing of the ruling nativist governments of Hungary and Poland. Many Europeans leaders, thinkers and politicians have heralded it as the return of fascism to the European continent.
Former Greek Finance Minister Yanis Varoufakis calls the the growing network of international far-right movements the "Nationalist International." U.S. Sen. Bernie Sanders calls it a "new authoritarian axis." Former Trump adviser Steve Bannon, a vocal proponent of nationalist policies, himself, simply calls it "The Movement."
American conservative media has been paying close attention. Far-right sites like Breitbart News run day-to-day coverage of crimes committed by immigrants and refugees in European nations like Sweden. Tucker Carlson, who's been criticized for aping white nationalist talking points on his popular Fox News show, has dedicated airtime in the past year to both European immigration and the plight of far-right activists from Austria and the U.K..
American conservatives aren't just watching, either. They're getting involved.
Since Steve Bannon fell out of favor with the Trump administration and the American nationalist movement, he's been traveling Europe, meeting the Prime Minister of Bosnia's Serb entity and France's National Front party leader Marine Le Pen. Though Bannon has been less effective in the U.S. than the media gives him credit for, he recently enlisted the help of Italian interior minister Matteo Salvini, who, through his anti-immigrant party the League, is working toward a populist takeover in the European Union's 2019 parliamentary elections.
Louie Dean Valencia-García, a Texas State University history professor who has written about the rise of the far-right in Europe, said on Friday that because these movements often have trouble gaining the political majority in otherwise-liberal countries, international solidarity is important for building a base of power, and for an exchange of ideas.
"One thing these movements can learn from each other is how to reach communities that typically resist far-right tendencies," Valencia-García said. "Having these groups in one place helps them learn tactics, and ways to strategize in order to be more effective."
The two visiting MPs will speak on a panel following the conference's National Sovereignty Dinner, shortly before the presentation of the "Full-time Homemaker of the Year Award."