Mic Daily: Paul Manafort agrees to cooperate with Mueller — and other stories of the day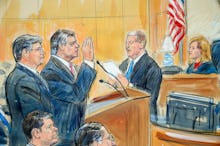 Welcome to Mic Daily: Mic's newsletter that cuts through the noise and lands in your inbox every weekday. We carefully curate each edition to send you a cross section of our most vital stories of the day.
Want more entertainment news in your inbox? Sign up for Hype Daily— Mic's morning entertainment briefing. It's got all the news you need to start your day.
Maryland entered the battle of states fighting over the Affordable Care Act's future, filing a lawsuit Thursday against the Trump administration over repeated attacks on the health care program.
Maryland Attorney General Brian Frosh filed the suit in U.S. District Court of Maryland against the U.S. government and Trump administration officials Attorney General Jeff Sessions, Health and Human Services Secretary Alex Azar and IRS commissioner Charles Rettig, citing the administration's "open hostility to enforcement of the Affordable Care Act."
"Since taking office, the Trump administration has engaged in a sustained effort to 'explode' the Affordable Care Act by making it more difficult and expensive for individuals to procure health insurance through the Act's Exchanges," the lawsuit notes.
Interning on Capitol Hill has its benefits, but until very recently, getting paid wasn't necessarily one of them. On Thursday, the House passed a bill allocating almost $14 million for White House interns: a provision of $8.8 million for those interning in the House and $5 million for Senate interns.
The legislation is a major victory. Previous investigations from Mic revealed that roughly 90% of House members and more than half of Senate members don't pay their interns. White House internship programs promise prestige and opportunity for young people entering the workforce — and some serious resume-building clout — but they rarely mention the financial strain they impart on those lucky enough to get the gig.
Dallas police added the discovery of marijuana to the public record for Botham Shem Jean, the Dallas man who was fatally shot by an off-duty police officer in his own apartment on Sept. 6.
On Thursday, local Texas news station Fox 4 reported that a warrant listing several items found in Jean's house became public record after it was signed and returned to a judge. Among them were 10.4 grams of marijuana, according to Fox 4. According to the Jean family's lawyer, the release of the marijuana discovery was an attempt to smear their late relative's name.
Off-duty officer Amber Guyger thought she had walked into her own apartment when she shot and killed Jean on Sept. 6, reportedly mistaking him for an intruder.
Guyger was charged with manslaughter on Sunday and was released from jail on a $300,000 bond.
Former Trump campaign chairman Paul Manafort pleaded guilty Friday to two counts of conspiracy to defraud the United States and conspiracy to obstruct justice, a move that lets him avoid a second trial, which was slated to begin Monday in Washington, D.C.
In exchange for pleading to fewer charges, Manafort agreed to cooperate with special counsel Robert Mueller's team — a major blow to President Donald Trump, who at one point praised Manafort for not "flipping."
After Sen. Dianne Feinstein on Thursday announced she had referred a letter containing information about Supreme Court nominee Brett Kavanaugh to the FBI, the New Yorker on Friday reported that the letter details allegations made by a woman who said Kavanaugh attempted to force himself on her when they were in high school.
According to the New Yorker, the woman alleged that during a party more than three decades ago, when Kavanaugh was attending high school at Georgetown Preparatory School in North Bethesda, Maryland, he and a classmate held her down and turned up the music in the room to mask the sound of her protests. She alleged that Kavanaugh then attempted to force himself on her, and covered her mouth with his hand.
In a statement obtained by the magazine, Kavanaugh said, "I categorically and unequivocally deny this allegation. I did not do this back in high school or at any time."