The Coast Guard removed a member from hurricane duty after he flashed a white power symbol on TV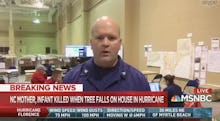 A member of the United States Coast Guard was removed from the Hurricane Florence response team on Friday after he surreptitiously flashed a hand signal for "white power" on live T.V.
In video footage of the MSNBC telecast, Sector Charleston Commanding Officer Capt. John Reed can be seen providing an update on the storm, which has claimed at least seven lives since it made landfall in the mid-Atlantic region on Thursday. Behind him, a sitting Coast Guard member quickly flashes what was once widely recognized as the hand gesture for "O.K.," but has since been co-opted by supporters of President Trump and the far-right as a symbol for white power.
The incident quickly sparked outrage on Twitter, prompting the Coast Guard to issue a statement confirming that it was aware of the incident.
"We are aware of the offensive video on Twitter — the Coast Guard has identified the member and removed him from the response," the agency wrote on Twitter. "His actions do not reflect those of the United States Coast Guard."
In a statement provided to Buzzfeed News, the Coast Guard called the incident a "frustrating distraction... during our hurricane response" and said that "these types of actions are not reflective of the core values of the Coast Guard."
As downed trees, infrastructure collapse and heavy flooding continue to plague the Carolinas, the Coast Guard has deployed more than 7,000 active duty members to help with rescues at the sites most affected by the storm.
Although Florence was downgraded to a tropical storm on Friday, the National Weather Service ominously promised on Twitter on Saturday that "there's MUCH more rain to come" — increasing the likelihood that already hard-hit areas will see even more severe flooding and devastation.