Hurricane Florence: 15 pictures show the deadly storm's devastation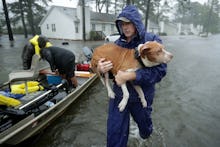 Hurricane Florence made landfall on Thursday as a Category 1 storm, with heavy rains causing widespread flooding and resulting in massive power outages across North and South Carolina.
At least seven people have died as a result of the storm's devastation, including a mother and her infant who were killed when a falling tree slammed into their home in Wilmington, North Carolina.
Although the storm has since been downgraded to a tropical storm and the whipping winds have largely subsided, the steady rainfall still buffeting the mid-Atlantic is expected to cause storm surge to continue to rise.
Below are 15 images from the epicenter of the deadly storm, where National Guard and vigilante rescue boats are still patrolling the floodwaters for survivors.