Nike stock hits an all-time high — and Wall Street analysts say it's because of Colin Kaepernick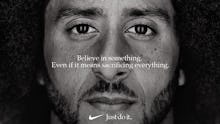 On Friday, Nike's stock hit an all-time high — and Wall Street analysts say it's because of the brand's controversial ad campaign featuring Colin Kaepernick.
On Thursday, Nike stock rose as high as $83.90, before closing at $83.49 on Friday afternoon — a 4% increase since the ad's release over Labor Day weekend, according to a report by CBS News, and it's highest price in 2018.
The brand's latest "Just Do It" campaign for its 30th anniversary included a number of high-profile athletes, including Los Angeles Lakers forward LeBron James and Grand Slam champion Serena Williams, yet Kaepernick's black-and-white portrait and caption that read, "Believe in something, even if it means sacrificing everything #JustDoIt," caused an uproar on social media, with some outspoken critics burning Nike merchandise in protest.
Days after the ad campaign's initial release, Nike's stock initially dropped 3%, but shares have now recovered and surpassed prior records — including online sales, which jumped nearly 31% in a single weekend. In a report by CNBC, some Wall Street analysts said the ad, along with an upsurge in likes and followers on Facebook and Instagram, is likely responsible for the stock's recent surge and the campaign is largely positive for its sales and brand.
It's also drawn support from young people, according to an SSRS Omnibus poll provided to CNN, with 44% of people ages 18-34 supporting Nike's decision to use Kaepernick, while just 26% of those over 65 supported the decision. According to CNN, however, people younger than 35 also make up two-thirds of Nike's customers.
In August 2016, Kaepernick kneeled during several NFL games' national anthems, protesting police brutality. "I am not going to stand up to show pride in a flag for a country that oppresses black people and people of color," Kaepernick told NFL Media. "To me, this is bigger than football and it would be selfish on my part to look the other way. There are bodies in the street and people getting paid leave and getting away with murder." His protests triggered a political firestorm, receiving criticism from President Donald Trump and others, for actions deemed to be unpatriotic.
Since the ad campaign's release, however, a number of celebrities have come out in online support of the ad, including Ava DuVernay, Kelly Clarkson and T.I. LeBron James, too, recently tweeted his reaction toward news of Nike's stock hitting a record-high. "Well I mean I guess WE'RE on [fire]," James wrote, using the fire emoji.
James has targeted Trump over race-baiting comments the president has made about Kaepernick and other black athletes.