Steve Bannon says Time's Up is the world's most powerful political movement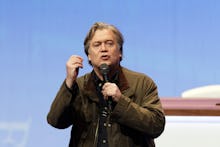 Former White House chief strategist Steve Bannon spoke out about the power of the Time's Up movement, calling the anti-sexual misconduct initiative the "single most powerful potential political movement in the world."
Bannon commented on the movement during a talk Saturday at the Economist's Open Future Festival, which drew protests and led other speakers to withdraw from the festival because of Bannon's white supremacist views. The New Yorker canceled a similar discussion with Bannon during its upcoming New Yorker Festival following similar protests over Bannon's appearance.
During the talk, Economist Editor-in-Chief Zanny Minton Beddoes asked about Bannon's thoughts on the Time's Up movement, noting the anti-establishment campaign should seemingly be in line with Bannon's own anti-establishment beliefs.
"The Time's Up movement, which is enormously powerful, is like the French Revolution — it wants to totally reorder society," Bannon said.
When asked if he was in favor of or against the movement, Bannon said, "I don't know what the matriarchy would look like, so right now I'm open."
"I know how to help raise an empowered woman," Bannon continued, citing his daughter, who serves in the U.S. Army. "So I fully understand what the objectives are. And I agree with the objectives, about empowering women.
"I'm quite shocked that the #MeToo movement hasn't cut through corporate America with a bigger scythe because I think there's a lot of potential there. All I'm saying is that the Time's Up movement, I believe, is the single most powerful potential political movement in the world."
Time's Up was born in the wake of the sexual misconduct allegations against Hollywood producer Harvey Weinstein and numerous other powerful men. Though started by women in Hollywood, the organization is aimed at helping women in all industries and has a legal defense fund to offset costs for those fighting sexual harassment experiences in the workplace.
Bannon's comments come as sexual misconduct allegations have continued to pile up in recent days. CBS chairman and CEO Les Moonves stepped down from CBS on Monday after a New Yorker article detailed sexual misconduct allegations by six women, which bolstered previous accusations against the executive. 60 Minutes executive producer Jeff Fager was then terminated Wednesday following allegations in the New Yorker that he sexually harassed a female intern, which led to Fager sending a threatening text message to a CBS reporter tasked with covering the allegations.
U.S. Supreme Court nominee Brett Kavanaugh's Senate confirmation has also been rocked by sexual misconduct allegations, as allegations that Kavanaugh attempted to force himself on a woman while in high school became public Friday. It is unclear what effect the allegations, which were reported to Sen. Dianne Feinstein (D-Calif.), will ultimately have on Kavanaugh's Senate vote, which is expected to take place by the end of September.