This Week in Politics: Hurricane Maria anniversary arrives as senators vote on Kavanaugh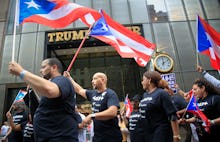 The political world is set for another chaotic week, with the one-year anniversary of Hurricane Maria arriving Thursday just days after President Donald Trump downplayed its devastating effects and his administration's inadequate response.
Activists and Hispanic lawmakers are set to oppose Trump's reaction to the tragedy in Puerto Rico with protests across the East Coast, while Hispanic lawmakers speak out against Trump's treatment of Latinos by refusing to attend an upcoming Hispanic-focused event.
Supreme Court nominee Brett Kavanaugh is expected to move forward in the Senate as the Senate Judiciary Committee prepares to vote on his nomination — but now there's a new controversy over sexual misconduct allegations against the potential justice.
Here's what to expect from the political world in the week ahead.
Trump's agenda: Trump is set to mark the start of Hispanic Heritage Month with a ceremony Monday, despite drawing widespread criticism after calling a Hurricane Maria death report a "hoax" and praising his widely condemned hurricane response in Puerto Rico as an "unsung success." Trump had been unpopular with Latinos even before his Hurricane Maria statements; he falsely equated Mexicans with "rapists" and criminals when announcing his presidential candidacy and has targeted Latinos extensively through his administration's strict immigration policies.
The Washington Post reported Friday that some Latino lawmakers — including Congressional Hispanic Caucus chair Rep. Michelle Lujan Grisham — are declining to attend the event. In a letter to Trump, Graham wrote that his administration's "policies, actions and rhetoric betray the values on which [Hispanic Heritage Month] was founded."
Trump will meet with a friendlier ally Tuesday, when Polish President Andrzej Duda visits the White House. Duda's far-right Law and Justice Party has reportedly moved the country closer to authoritarian rule since taking power and Duda himself has repeatedly praised Trump's leadership. The meeting comes months after the U.S. issued diplomatic sanctions against Poland over a law that criminalized blaming Poland for the Holocaust, which Poland later amended.
Trump will also hit the campaign trail this week ahead of the November midterms. He's heading out to Las Vegas and Springfield, Missouri, for rallies on Thursday and Friday, respectively.
Congress: The House will be out of session this week while the Senate remains in Washington. The Senate Judiciary Committee will vote Thursday on Kavanaugh's nomination after an initial one-week delay. The vote will come less than a week after sexual misconduct allegations against Kavanaugh, which which accused the judge of forcing himself on a woman while in high school, became public. It is unclear what effect the allegations, which gained steam Sunday when accuser Christine Blasey Ford spoke out publicly about the allegations to the Washington Post, will have on Kavanaugh's Senate confirmation.
Following the Senate committee vote, Kavanaugh's nomination will then move to the Senate floor. Senate Majority Leader Mitch McConnell (R-Ky.) has vowed to hold a Senate vote before the end of September, which would put Kavanaugh on the bench before the Supreme Court begins its next session Oct. 1.
After passing the first of three spending packages Wednesday, the Senate will work on spending bills this week before the current budget expires Sept. 30. Lawmakers will also hold Senate hearings this week on such topics as border security and reducing health care costs.
Hurricane Maria: Activists on Saturday will mark the one-year anniversary of Hurricane Maria making landfall in Puerto Rico by taking their frustrations to the "winter White House." Organizers of the #BoricuasRemember protest are planning to drive a 30-vehicle caravan past Trump's Mar-a-Lago estate in Florida displaying signs and flags, which will then be followed by a rally in West Palm Beach expected to draw 1,500 attendees. Protests are also set to take place in New York City and Washington, D.C.
"Nearly one year ago, Hurricane Maria ravaged Puerto Rico," the protest website noted. "The storm left almost the entire Island without food, electricity or clean water and led to the deaths of as many as 4,645 U.S. citizens. Since then, hurricane survivors have also become victims of government inefficiency, discrimination and neglect. Puerto Rico deserves the same attention and treatment as other areas on the mainland readily received after natural disasters."
Texts from Trump: Americans across the country will get a message from the government Thursday, when the Federal Emergency Management Agency will send a test "presidential alert" to Americans' phones at approximately 2:20 p.m. Eastern. The messaging system provides the president "with the communications capability to address the nation during a national emergency," according to FEMA. Users cannot opt out of the messages.