Woman who accused Brett Kavanaugh of sexual misconduct speaks out for first time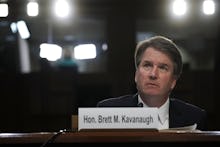 The woman who accused Supreme Court nominee Brett Kavanaugh of sexual misconduct has spoken out publicly for the first time in an account published Sunday by the Washington Post.
Christine Blasey Ford, a research psychologist and professor at Palo Alto University, had alleged in a letter sent to Sen. Dianne Feinstein (D.-Calif.) that Kavanaugh attempted to force himself on her while drunk at a party while they were in high school. Though Ford previously kept her identity confidential, she decided to speak out after the letter became public, which resulted in a public backlash, inaccuracies about her account and requests from journalists disrupting her privacy, the Post reported.
In response to initial reports of the letter, 65 women who knew Kavanaugh in high school signed a letter testifying to his positive treatment of women.
Ford told the Post that though some details are now hazy, she believes her encounter with Kavanaugh took place in 1982, when Ford was 15 and Kavanaugh was 17. According to Ford's account, an intoxicated Kavanaugh and his friend, Mark Judge, allegedly pushed Ford into a bedroom at a party, where Kavanaugh "held her down with the weight of his body and fumbled with her clothes" while both boys laughed "maniacally."
"I thought he might inadvertently kill me," Ford said. "He was trying to attack me and remove my clothing."
Kavanaugh covered her mouth with his hand when she tried to yell, Ford alleged, and she was able to break free when Judge jumped on top of them, "toppling" them over, the Post reported.
Kavanaugh and Judge both denied Ford's allegations before her identity was made public and declined to comment to the Post about the incident after Ford came forward.
"I think it derailed me substantially for four or five years," Ford said, adding that she faced social and academic struggles and had trouble having healthy relationships with men. "I was very ill-equipped to forge those kinds of relationships."
Ford also told the Post the event likely contributed to the now-51-year-old's anxiety and post-traumatic stress disorder. Ford had previously described the account during a couples therapy session with her husband in 2012 and during an individual therapy session in 2013, according to the Post.
Ford's husband, Russell Ford, told the Post his wife's allegations are relevant, and that "Supreme Court nominees should be held to a higher standard."
"I think you look to judges to be the arbiters of right and wrong," he said. "If they don't have a moral code of their own to determine right from wrong, then that's a problem."
The Post reported Christine Blasey Ford had contacted its tip line in early July, before President Donald Trump announced Kavanaugh as the nominee to succeed retiring Justice Anthony Kennedy. Ford sent her letter to Feinstein — the ranking Democrat on the Senate Judiciary Committee — in July via the office of her local Rep. Anna Eshoo, according to the Post. After originally wanting to remain anonymous, the Post reported that Ford heard people "repeating inaccuracies about her" and "felt her privacy being chipped away," which led her to speak publicly.
"These are all the ills that I was trying to avoid," Ford told the Post, explaining her decision to come forward. "Now I feel like my civic responsibility is outweighing my anguish and terror about retaliation."