Hype Daily: Justin Bieber and Hailey Baldwin secretly got married and more entertainment news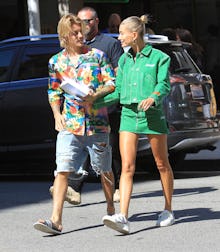 Welcome to Hype Daily, Mic's morning entertainment roundup. Here's everything you need to catch up on in the entertainment world and what to look forward to today. Want to receive this as a daily email in your inbox? Subscribe here.
Happy Monday folks — and happy Emmys day if you're planning on watching the awards show tonight. Let's catch up on the entertainment news of the weekend, shall we?
Apparently, Justin Bieber and Hailey Baldwin ... got married already?
After a weekend of confusing — and conflicting — news reports, it seems like Justin Bieber and Hailey Baldwin actually did get married in a courthouse wedding in New York City last week. As celeb experts Us Weekly reported on Sunday, Bieber and Baldwin got legally married in New York Friday. The news of their low-key nuptials spread quickly, but then Baldwin threw a wrench in the excitement when she tweeted (in a since-deleted tweet), "I'm not married yet!"
But according to Us Weekly, she actually is legally married as of Friday — apparently Baldwin's tweet might have been referring to the fact that she and Bieber haven't had a religious ceremony yet? People reported that, according to a "religious source," the two are planning on having a wedding ceremony sometime in the near future in addition to their courthouse marriage. Anyway, this is all very confusing — but congrats, you crazy kids!
Soon-Yi Previn gave an interview about her relationship with Woody Allen
Soon-Yi Previn, whose marriage to alleged abuser Woody Allen has been in the spotlight for decades, gave a new interview with Daphne Merkin, a longtime friend of Allen's, for the newest issue of New York magazine. In the interview, which also quotes Allen, Previn paints Mia Farrow as a distant and unkind mother, describes meeting Allen for the first time when she was 10 and says their romantic relationship was consensual. She also says Farrow has "taken advantage of the #MeToo movement and paraded Dylan as a victim. And a whole new generation is hearing about it when they shouldn't."
Allen has been accused by his daughter, Dylan Farrow, of sexually abusing her in 1992, when she was 7 — allegations she has made publicly on several occasions, including in a 2014 open letter in the New York Times. Farrow posted a statement to Twitter late Sunday, responding to the new interview. In it, she wrote, "The idea of letting a friend of an alleged predator write a one-sided piece attacking the credibility of his victim is disgusting."
Tom Arnold and Mark Burnett got into a physical fight at an Emmys party
Comedian Tom Arnold and reality show mogul Mark Burnett reportedly got into a physical alternation at a pre-Emmys fundraiser Sunday evening, Variety reported. Arnold was a contestant on Celebrity Apprentice, produced by Burnett, and has accused Burnett of covering up tapes showing former Apprentice host and current U.S. President Donald Trump using slurs and other offensive language.
Arnold's new reality show, The Hunt for the Trump Tapes, is all about his search to expose those outtakes. It's unclear who started the physical fight on Sunday, but according to Variety, "Both men were allowed to enter the party after settling down."
Matthew Perry says he was in the hospital for three months
Matthew Perry, aka, you know, Chandler from Friends, revealed in a tweet Friday he had spent the last three months hospitalized. "Three months in a hospital bed. Check," he wrote in the tweet.
While Perry didn't give the reason for his hospitalization, People reported back in August, a spokesperson for Perry told the outlet, "Matthew Perry recently underwent surgery in a Los Angeles hospital to repair a gastrointestinal perforation ... He is grateful for the concern and asks for continued privacy as he [heals]."
Perry, whose post-Friends career has included turns on TV shows like The Good Wife, has been open about his health in the past, including his experience with addiction and his recovery process.
Get better soon, Matt.
Check out this photo of Joaquin Phoenix as the Joker
So, remember how Joaquin Phoenix is going to play the classic Batman villain the Joker in a standalone spinoff movie revealing his origin story? Well, that's still happening.
On Sunday, Joker director Todd Philips Instagrammed a first look of Phoenix in character, with the laconic caption "Arthur." Apparently, that's the Joker's real name? According to Entertainment Weekly, the film will be released sometime next year. Gotham City isn't ready for this and, frankly, neither am I.
Put this on your radar: The Emmys
Buckle up for awards season, everybody — the 70th Annual Primetime Emmys will take place today, at the Microsoft Theater in Los Angeles. Saturday Night Live's Colin Jost and Michael Che will host the ceremony, which will air on NBC at 8 p.m.
Look out for nominees like Sandra Oh, who is poised to make history if she wins for outstanding actress in a drama — she would be the first Asian actor to win in the category. And obviously follow us here at Mic for all of the latest Emmys news as the show kicks off this evening.