Today in Trump's America: Kavanaugh nomination in doubt as his accuser steps forward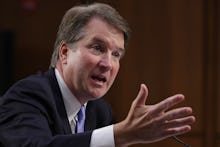 Welcome to Mic's daily read on Donald Trump's America. Want to receive this as a daily email in your inbox? Subscribe here.
Good morning from Emily Singer at Mic.
Here's what's happening in Trump's America:
• Trump's day begins at 11 a.m., when he'll receive a briefing on the emergency response from Hurricane Florence, followed by his daily intelligence briefing at 11:30 a.m.
Today's question: Do you think Kavanaugh's nomination should move forward?
Send me your thoughts to TrumpsAmerica@mic.com. I'll include some of your responses in Tuesday's newsletter.
About the weekend: Brett Kavanaugh's accuser comes forward, putting his nomination in doubt
Christine Blasey Ford, a professor at Palo Alto University, came forward over the weekend to formally accuse Supreme Court nominee Brett Kavanaugh of attempting to rape her when the two were at a party when they were in high school.
Ford alleged in a letter that Kavanaugh and his friend, Mark Judge, pushed her into a bedroom at a party in 1982.
"They both laughed as Kavanaugh tried to disrobe me in their highly inebriated state," Ford wrote in the letter, which was sent to Sen. Dianne Feinstein (D-Calif.), and published by CNN. "With Kavanaugh's hand over my mouth I feared he may inadvertently kill me."
According to the Washington Post, Ford spoke about the incident during a couples counseling session in 2012, and her husband told the Washington Post the man she was speaking about was Kavanaugh.
Ford also reached out to the Post tip line in early July, when Kavanaugh was reported to be on Trump's short list for Supreme Court nominees.
Kavanaugh denies the allegations, and Republicans have come to his defense. GOP members on the Senate Judiciary Committee have voiced more concern with the timing of Ford's allegations, rather than their substance.
"It's disturbing that these uncorroborated allegations, from more than 35 years ago, during high school, would surface on the eve of a committee vote after Democrats sat on them since July," the statement from the Republican-led committee reads.
Democrats, meanwhile, are demanding that the vote on Kavanaugh be delayed, with three Republican lawmakers — Sens. Jeff Flake of Arizona, Bob Corker of Tennessee and Lisa Murkowski of Alaska — saying the committee might have to push the vote until the allegations can be looked into.
"I've made it clear that I'm not comfortable moving ahead with the vote on Thursday if we have not heard her side of the story or explored this further," Flake told the Post.
Sen. Susan Collins (R-Maine), who already faced immense pressure to vote against Kavanaugh over his potential to overturn the landmark Roe v. Wade decision that preserves the right to an abortion, simply said she is "surprised" by Ford's allegations, but added Kavanaugh was "emphatic" in his denial, according to CNN.
Ford says she is willing to testify publicly before the Senate Judiciary Committee, according to NBC News. The optics of such a testimony could be devastating for Kavanaugh and the GOP. But no matter what happens, Kavanaugh's nomination has become a political disaster for Republicans, who once thought this Supreme Court vacancy was their silver bullet to avoid a drubbing in the midterm elections.
The accusations now give Democratic lawmakers in states Trump carried in 2016 a solid reason to vote against his confirmation. And the way Republicans handle the allegations give women voters yet another reason to be frustrated with many within the GOP who have once again taken the side of the accused, following accusations against failed Alabama Senate hopeful Roy Moore and former White House staff secretary Rob Porter, who were accused of sexual misconduct and physical abuse against women, respectively.
Today in Trump's America: Will Kavanaugh's nomination be pulled?
Republicans are adamant that they will not be swayed by Ford's allegations, vowing to proceed with his nomination — no matter the cost. But in Washington, situations can change in an instant.
If two of the three lawmakers who have already expressed concern over the allegations choose to vote against Kavanaugh's nomination, his confirmation is sunk.
If Kavanaugh is not confirmed, it's unlikely Republicans will have time to hold another confirmation vote before the midterm elections. Given the small but real chance Democrats win control of the Senate, that would mean Trump may not get another Supreme Court nominee.
Senate Majority Leader Mitch McConnell ultimately holds the cards here. No matter what the White House says, he won't want to be embarrassed by holding a failed confirmation vote. If he believes the votes to confirm aren't there, he will likely pull Kavanaugh's nomination.
And the rest…
"Mad Dog" Mattis in the dog house: Defense Secretary James Mattis' future in the Trump administration is in doubt, as the president's relationship with the man he once affectionately called the "Mad Dog" has soured. Trump believes Mattis is a Democrat, according to a report in the New York Times.
Trump's worst nightmare?: The Kavanaugh allegations are eating up the oxygen in the media, but former Trump campaign chairman Paul Manafort is now cooperating with special counsel Robert Mueller's investigation — and could become the worst nightmare of the Trump White House.