How US cities and states plan to push back against the Trump administration on climate change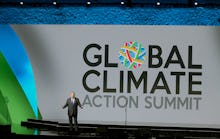 United States cities and states vowed to take up the fight against climate change after President Donald Trump pulled the nation out of the Paris climate accord in June 2017 — and at a summit in California last week, many strengthened their resolve to fight for the environment.
The Global Climate Action Summit, which took place from Wednesday to Friday in San Francisco, brought together climate leaders from both the public and private sectors. The summit focused on how climate change can be fought at the subnational level by local leaders and state and regional governments, along with private businesses.
The private sector made bold promises during the summit: Walmart and Unilever pledged to limit deforestation in their supply chain, Lyft committed to full carbon neutrality and 21 companies formed an alliance to harness technology to reduce greenhouse emissions.
In the wake of the Trump administration's inaction on climate change — and its moves that could harm the environment even further — local and state governments in the U.S. also stepped up to take the lead on the country's climate change efforts. The California summit took place as Americans on the other side of the country were facing devastation from Hurricane Florence, which a Stony Brook University study revealed was longer in duration, larger and had 50% more rainfall than it would have without climate change.
"Not one single mayor, not one single county executive, not one single governor in the world has followed Donald Trump … over the cliff of climate denial," Washington Gov. Jay Inslee said during the summit, as quoted by Grist.
California made the boldest promises during the climate summit, as Gov. Jerry Brown signed legislation committing the state to 100% renewable energy and carbon neutrality by 2045. Brown also announced that the state would launch its own satellite to track greenhouse gases.
New York, Maryland and Connecticut made their own policy moves during the summit as well. The three states announced legislation to phase out hydrofluorocarbons, which are potent greenhouse gases used in cooling systems like air conditioners and refrigerators. California passed similar legislation earlier in 2018, and the legislation being adopted in both California and New York could persuade manufacturers to phase out the pollutant nationwide.
States also worked in conjunction with foreign governments during the climate summit. The U.S. Climate Alliance, a climate change coalition of 16 states and Puerto Rico, issued a joint statement with Canada and Mexico affirming their commitment to working together on an ambitious climate agenda throughout North America. California also announced plans to work with China on climate change efforts, including zero-emissions vehicles and fuel-cell research.
Cities have been taking their own actions against climate change in addition to the state efforts. During the summit, 27 cities around the world revealed they have cut emissions since 2013 and pledged to reduce them even further, including the U.S. cities of Boston; Chicago; Los Angeles; New Orleans; New York City; Philadelphia; Portland, Oregon; San Francisco; and Washington, D.C.
U.S. cities joined in a series of pledges on climate action during the summit, signing on to such commitments as procuring only zero-emissions buses by 2025; making a major city area zero-emissions by 2030; reducing each citizen's waste by 15% by 2030 and the amount of waste sent to landfills by 50%; and increasing climate actions that benefit low-income and vulnerable communities. Among the U.S. cities that signed on to at least one of the city pledges are Birmingham, Alabama; Honolulu; Santa Monica, California; San Jose, California; West Hollywood, California; Bridgeport, Connecticut; Denver; Houston; and Salt Lake City.
New York City announced an action of its own during the summit as well, as Mayor Bill de Blasio and other city officials pledged to double the city's investments in climate solutions to $4 billion over the next three years.
Despite their major commitments, local and state governments are fighting an uphill battle against climate change. A study commissioned by the U.S. Climate Alliance found that current climate efforts will reduce U.S. emissions to 17% below 2005 levels by 2025, which falls short of the U.S.'s commitment of a 26% to 28% reduction in the Paris agreement. Though participants at the summit were optimistic about climate efforts, they also acknowledged that much more work has to be done.
"The story here is optimistic," Jonathan Pershing, who previously served as the special envoy for climate change at the U.S. Department of State and negotiated the Paris agreement, told the Guardian. "The question here is, does the optimism translate, and can this message get out globally.
"There is a good broad cross-section of people from around the world, but it's just a few thousand people, and it's a problem that's going to require engagement by millions."