The CEO of Waffle House is in Wilmington, North Carolina, to serve breakfast to Florence victims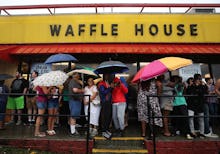 Extreme flooding from tropical storm Florence has cut off the city of Wilmington from the rest of North Carolina, essentially turning it into its own island. A reported 400 people have been rescued from the area. As for the rest? Many are finding shelter and food at Waffle House restaurants, which are acting as relief centers.
As for why Wilmington Waffle Houses are open for business, the restaurant and its staff are just doing their part, Waffle House president and CEO Walt Ehmer told CBS news correspondent David Begnaud in a video Begnaud posted on Twitter. "People in the community gotta eat," Ehmer said. "First responders have to eat. Our folks need some normalcy in their lives. So the sooner we get back to normal the sooner they get back to normal — and it's one thing we can do for the community."
When disaster strikes, Waffle House has historically been both a beacon and a barometer. The Waffle House Index is a phrase used by the Federal Emergency Management Agency to assess the threat of a storm. Waffle Houses are open 24 hours a day; the index addresses whether the restaurant locations in areas at risk are remaining open, serving a limited menu or are closing.
"The Waffle House test just doesn't tell us how quickly a business might rebound — it also tells how the larger community is faring," a 2011 FEMA blog post states. "The sooner restaurants, grocery and corner stores or banks can reopen, the sooner local economies will start generating revenue again —signaling a strong recovery for that community."
Ehmer has been personally serving first responders and hungry customers. "All these first responders are here doing all the things they can to help save people and do really important work and the one thing we can do is feed people — so that's why we're here," he told Begnaud.
Waffle House has offered comfort beyond hot breakfast food. As the Los Angeles Times reported, a Wilmington Waffle House employee named Matt gave several residents permission to find shelter in the restaurant once Florence hit. According to the Times, shelters would only take those with identification cards, and hotels were a cost-prohibitive option for some.
Chef José Andrés, who also traveled to North Carolina on Friday to provide disaster relief, tweeted about Ehmer's admirable efforts. "Anybody out there wants a lesson about leadership? Who is in front of beloved @WaffleHouse in Wilmington? Making sure he feeds the hungry? Walt Ehmer, President and CEO.....God Bless!" he wrote on Sunday morning.
Andrés, who was named one of Time's most influential people in 2018, formed the relief group World Central Kitchen in 2010 to provide food for people in natural disasters. The group cooked millions of meals to those in Puerto Rico affected by the devastation of Hurricane Maria. Florence is the first natural disaster where the organization is on the ground in the middle of the crisis, Raleigh's News & Observer reported. Rather than arrive after the storm, the relief group went before Florence hit to position itself with better control.
"It's something we learned from the challenges of Houston (and Hurricane Harvey)," Nate Mook, the World Central Kitchen executive director, told the publication. "Because of flooding, it was hard to get to some of the places that were most impacted."