Apple's iOS 12 download leaves out Siri's best new feature. Here's how to unlock it on your iPhone.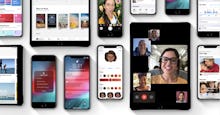 Apple's iOS 12 update will arrive on an iPhone near you Monday at 1 p.m. Eastern. The incoming mobile software will include new features like FaceTime group chat for up to 32 people, a new avatar creator and digital wellness features to limit overuse of social media apps. The iPhone update will also include Siri Shortcuts, one of the biggest improvements to come to the virtual assistant yet.
How does this new supercharged version of Siri work?
In 2017, Apple acquired Workflow, an app that lets your iPhone quickly carry out numerous tasks at once. Apple's retooled version of this app is Siri Shortcuts. The Shortcuts app will allow Siri to complete a list of actions in the order of your choosing. Users assign the keyword or key phrase that begins the domino effect.
For example, the phrase "I'm heading home" could cue Siri to text your roommate, play your favorite podcast and then pull up directions to your apartment, in that order. Shortcuts will work with non-Apple apps, too, for quick math equations, calendar access and more.
How do I get Siri Shortcuts on iOS 12?
Those who have downloaded Apple's iOS 12 early via the company's beta program have noted the Siri Shortcuts app isn't included with the software update. Early downloaders were required to grab Siri Shortcuts as a separate app. In our testing, the consumer-ready version of iOS 12, which app creators also got early, did not include the Siri Shortcuts app either.
Just like the early test software, iOS 12 will require you to download Siri Shortcuts separately. According to Apple, you'll be able to find the Shortcuts app as a download on its App Store here.
If you don't have enough space to download the new Siri app or simply don't feel like it, you can still make use of a more limited version of Shortcuts. Head to Settings and then Siri and Search. It's here you'll be able to access a pared-down version of Siri Shortcuts.
Sept 17, 2018, 1:15 p.m. ET: This story has been updated