Brett Kavanaugh denies sexual assault allegations, will testify to "defend my integrity"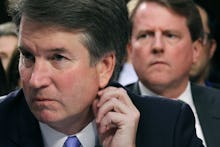 Supreme Court nominee Brett Kavanaugh on Monday denied the allegations from Christine Blasey Ford, a professor at Palo Alto University who accused him of attempted rape when they were both in high school, calling Ford's accusation "completely false."
"I have never done anything like what the accuser describes — to her or anyone," Kavanaugh said in a statement distributed by the White House.
Kavanaugh went on to bring up how long ago the alleged incident took place and say he's willing to testify to clear his name.
"Because this never happened, I had no idea who was making this accusation until she identified herself yesterday," Kavanaugh added. "I am willing to talk to the Senate Judiciary Committee in any way the committee deems appropriate to refuse this false allegation, from 36 years ago, and defend my integrity."
Ford, for her part, has also said she is willing to testify publicly about her allegation.
"She has taken a polygraph. She is a credible person. These are serious allegations, and these should be addressed," Ford's attorney, Debra Katz, said on the Today show.
Kavanaugh was spotted entering the White House Monday after both he and Ford said they are willing to answer questions publicly about the allegations. The White House has been adamant that it does not plan to withdraw Kavanaugh's nomination.
Kavanaugh himself appears to be hell-bent on defending himself, hiring an attorney, according to CNN. It's unclear, however, whether Kavanaugh will be able to win confirmation.
Three Republicans — Sens. Jeff Flake of Arizona, Bob Corker of Tennessee and Lisa Murkowski of Alaska — have all said a vote on Kavanaugh should be held off until questions are answered.