Ted Cruz's Texas Senate campaign is sending out mailers to voters disguised as court summonses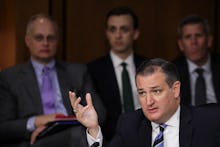 As Texas Sen. Ted Cruz's re-election bid against Rep. Beto O'Rourke enters a nail-biter of a final leg, multiple sources are reporting that the Cruz campaign sent out donation request mailers last week disguised as legal summonses.
A photo of one such mailer posted to Twitter on Sunday shows a yellow envelope clearly marked "SUMMONS ENCLOSED — OPEN IMMEDIATELY." One man who posted a photo to Twitter, Sean Owen, said that the envelope had been delivered to his 88-year-old grandmother.
"Did your campaign authorize this? Is this even legal?" Owen asked Cruz on Twitter. "Shame on you. That's one more @BetoORourke voter."
Owen also told Newsweek that the mailer crossed a line, as his grandmother, who he says has had dementia, could have easily been tricked into sending money.
"I am used to ignoring junk mail with URGENT or FINAL NOTICE written on it, but this fooled even me for a moment, as it plainly wants us to think it's from our county government when it isn't," Owen said.
Cruz and his Democratic opponent O'Rourke are currently locked in a statistical dead heat in the race for the Texas Senate seat. While Cruz has shored up a majority of the vote among older Texans, O'Rourke, who represents Texas's 16th Congressional District in the U.S. House, is the clear frontrunner among young progressive voters, a recent Emerson College survey found.
"We've got a race on our hands," Cruz said during an interview with Fox News on Sunday. "If you're a wealthy liberal sitting in New York City or Massachusetts or San Francisco right now and you could defeat one Republican in the country, it'd be me, that's why the money is flowing in here."
On Sunday night, Gene Wu, a state representative serving Texas's 137th District, said that the mailers ran afoul of the Texas Deceptive Trade Practices Act, which he helped to enact in 2015. According to the law's official language, solicitations that resemble "a governmental notice or form that represents or implies that a criminal penalty may be imposed if the recipient does not remit payment for the good or service," are prohibited.
"This is the very type of solicitation the law was intended to ban," Wu wrote on Twitter. "Ones that pretend to be from a government agency. Confusing people & lowering trust."
This is not the first time tricky mailers have landed a Cruz campaign in hot water.
During his 2016 campaign to secure the Republican nomination for the presidency, elected officials in Iowa blasted Cruz after official literature was sent out in his name declaring "VOTER VIOLATION," and "PUBLIC RECORD — FURTHER ACTION NEEDED" on the envelopes.
"You are receiving this election notice because of low expected voter turnout in your area," the 2016 mailers read, according to CNN. "Your individual voting history as well as your neighbors' are public record. Their scores are published below, and many of them will see your score as well. CAUCUS ON MONDAY TO IMPROVE YOUR SCORE and please encourage your neighbors to caucus as well. A follow-up notice may be issued following Monday's caucuses."