Ted Cruz attacks Beto O'Rourke for calling on Dallas police to fire officer accused in killing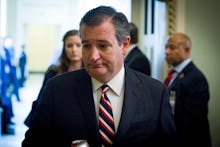 Texas Sen. Ted Cruz lashed out against his Democratic midterm rival Beto O'Rourke on Monday for encouraging the Dallas Police Department to fire the off-duty officer accused of fatally shooting a black man in his own home.
"I wish Beto O'Rourke & Democrats weren't so quick to always blame the police officer," Cruz said Saturday during an interview with Houston's KRIV. "She may have been in the wrong ... but I don't think we should jump to conclusions."
On Sept. 6, 30-year-old DPD Officer Amber Guyger mistakenly entered the apartment of Botham Jean, a 26-year-old black man, and fired two shots. She has said she believed she was in her own apartment, and that Jean was an intruder. Three days later, Guyger was arrested on a manslaughter charge and booked in the Kaufman County Jail.
At a campaign rally Friday night, O'Rourke had called upon the DPD to "do the right thing" and fire Guyger.  
"I think we are all counting on the district attorney, on those in positions of trust and power right now, to do the right thing," O'Rourke said. "There has to be a full accounting for how young black men continue to be killed in this country without accountability, without justice, without these full investigations, without respecting their civil rights. This cannot continue."
Calls for Guyger to be terminated and prosecuted are also coming from protesters, who have come out in force to raise awareness about Jean's killing. On Friday, his mother, Allison Jean, called Guyger — who is awaiting trial after being released on a $300,000 bond — the "devil" and demanded that she be fired.
Cruz and O'Rourke are deadlocked in the race for the Senate seat that Cruz presently holds. They recently agreed to participate in three debates in the lead-up to the Nov. 6 midterm election, the first of which is scheduled to take place Sept. 21 in Dallas.