Stories That Pay Off: Nike's online sales have spiked — and it's because of Colin Kaepernick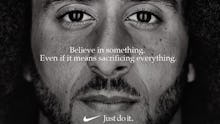 Nike's latest "Just Do It" campaign includes a number of high-profile athletes, like Los Angeles Lakers forward LeBron James and Grand Slam champion Serena Williams — yet it was Colin Kaepernick's black-and-white portrait and accompanying caption that sparked the most polarizing reactions on social media, with some critics even burning Nike merchandise in protest. While Nike stock initially dipped in the days following the ad campaign's release, it's now recovered — and even surpassed all records for 2018.
Also this week, Mic spoke with four Lehman Brothers alumni about the events of that fateful day 10 years after the financial institution filed for bankruptcy, explored a major victory for interns on Capitol Hill and took a look at why millennials are hoarding money — and distrusting banks — more than ever.
Despite the initial uproar over the ad, Nike stock closed at $83.49 on Friday afternoon — a 4% increase since the ad's release and its highest price in 2018.
"There was some bitterness that Lehman Brothers was the sacrificial lamb. Everyone else was bailed out, but not Lehman."
Previous investigations from Mic revealed that roughly 90% of House members and more than half of Senate members don't pay their interns, but things are about to change.
I was still in college during the 2008 crash, but it changed my entire relationship with money — and statistics show other millennials feel the same.