Trump opens door to a delay in Brett Kavanaugh confirmation vote as controversy swirls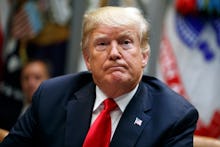 President Donald Trump on Monday appeared open to delaying the confirmation vote on Supreme Court nominee Brett Kavanaugh, who is accused of sexual assault dating back to his time in high school in the early 1980s.
"He is somebody very special," Trump said of Kavanaugh. "At the same time, we want to go through a process, we want to make sure everything is perfect, everything is just right. I wish the Democrats could have done this a lot sooner because they had this information for many months, and they shouldn't have waited till literally the last days, they should have done it a lot sooner, but with all of that being said we want to go through the process."
Trump's comments come after both Kavanaugh and his accuser, Palo Alto University professor Christine Blasey Ford, have both said they are willing to testify before the Senate Judiciary Committee about the allegations.
A growing number of GOP senators have said they think the allegations should be looked into before a vote is held, including Sen. Susan Collins (R-Maine), whose vote is crucial to the outcome of Kavanagh's nomination.
No matter what happens, the incident could be yet another galvanizing event that drives women to the polls in the midterm election. The allegations have similarities to those from Anita Hill in 1991, when she levied sexual harassment allegations against now-Supreme Court Justice Clarence Thomas. The way Hill was treated as she testified about her experience working with Thomas led women to run for office, and win, in record numbers in the 1992 midterms.
Democratic strategists say the Ford allegations are the latest incident that could drive female voter turnout and help boost Democrats into power.