Coca-Cola may be entering the weed market with its own cannabis-infused drink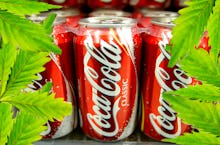 From cocktails to coffee, cannabis-infused beverages are everywhere, and soon, you may find the drug in your local grocery stores and vending machines.
According to a report by BNN Bloomberg, Coca-Cola is in "serious talks" with Aurora Cannabis, a Canadian medical marijuana producer — to create a soda infused with marijuana.
Though the details of any partnership are being kept under wraps, a source told BNN Bloomberg, "They're very advanced down the path," referring to a deal between the soda giant and cannabis company, and the beverage will likely fall within the "recovery drink" category.
"Along with many others in the beverage industry, we are closely watching the growth of nonpsychoactive CBD as an ingredient in functional wellness beverages around the world," Kent Landers, a spokesman from Coca-Cola told BNN Bloomberg, referring to cannabidiol, a chemical derived from marijuana commonly used for anxiety relief, without the intoxicating side effect (or high). "The space is evolving quickly. No decisions have been made at this time."
Since news of the partnership came out, shares of Aurora Cannabis, Inc. jumped 19%. "Coca-Cola would be a great partner, I suppose, but we can't comment on speculation at this time," Terry Booth, Aurora Cannabis' CEO, said in an interview with Bloomberg. "There's a number of beverage companies in this space. We've spoken to at least three different beverage companies in this space over the last three months."
With more and more states poised to legalize the recreational use of marijuana, Coca-Cola isn't the only corporation seeking to capitalize on the rapidly growing weed industry. In August, Constellation Brands, the makers of Corona and Modelo beer, invested $4 billion in Canopy Growth, Canada's largest medical marijuana producer.
And according to a report by Business Insider, the legal marijuana market is quickly catching up to its alcohol and spirit counterparts, estimated to be worth $47 billion in the U.S. alone over the next decade (spirits are valued at $58 billion and wine at $65 billion).
And if you're wondering why Canada is on the forefront for big investment by corporations, it's because the U.S. has some catching up to do. In October, Canada will soon become only the second country in the world (behind Uruguay) to legalize recreational marijuana.
Recently, President Donald Trump said he would likely support an effort to lift the federal ban on marijuana, according to the Los Angeles Times. But in August, BuzzFeed News reported the Trump administration secretly created an organization known as the Marijuana Policy Coordination Committee. In several memos, the organization instructed 14 federal agencies and the Drug Enforcement Administration to purposefully submit data and misinformation about marijuana as a "threat" to our country, its national health and security.
"I don't think Trump was being disingenuous when he said he supported reform. I genuinely believe that there's a lack of control of what's going on in the executive branch as it relates to marijuana policy," Rep. Tom Garrett (R-Va.) told Rolling Stone in response to the news of the committee's actions. "Now people who want to use this against the president will, but the reality is the person who can oversee all of this attentively probably doesn't exist."
Moving to Canada has suddenly become even more appealing.