Today in Trump's America: Trump slashes number of refugees allowed in the US to a record low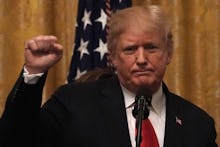 Welcome to Mic's daily read on Donald Trump's America. Want to receive this as a daily email in your inbox? Subscribe here.
Good morning from Emily Singer at Mic.
Here's what's happening in Trump's America:
• Trump's day begins at 11:30 a.m., when he holds a signing ceremony for a presidential memorandum.
About last night: Trump administration lowers refugee cap from 45,000 to 30,000
The Trump administration is once again lowering the number of refugees it will allow to resettle in the U.S., slashing the number from 45,000 in 2018 to no more than 30,000 in 2019.
This marks an historic low, according to the New York Times, and is just the latest move by the Trump administration to cut back on the number of immigrants allowed into the country.
The cut to the number of refugees allowed to resettle in the U.S. was a key priority of top White House aide Stephen Miller, who wanted to see the number of refugees allowed to resettle cut to 25,000.
"In consideration of both U.S. national security interest and the urgent need to restore integrity to our overwhelmed asylum system, the United States will focus on addressing the humanitarian protection cases of those already in the country," Secretary of State Mike Pompeo said at a news conference Monday afternoon.
Democrats condemned the move.
"In so many ways, this White House has shown a particular contempt for the world's most vulnerable people seeking refuge from persecution and war," Sen. Pat Leahy (D-Vt.) said in a statement. "What previous Republican and Democratic administrations believed was a moral responsibility — and a way to demonstrate that unmatched American power is derived in part from how we treat the powerless among us — the Trump administration shamelessly treats as a burden to be callously discarded."
Today in Trump's America: Trump declassifies documents related to the Russia investigation
Trump on Monday ordered both the Department of Justice and officials within the intelligence community to declassify documents relating to the Russia investigation, a move that will appease some Republican lawmakers on Capitol Hill but further damage Trump's relationship with the top law enforcement and intelligence agencies he oversees.
GOP lawmakers have demanded the documents in their quest to prove former Trump campaign adviser Carter Page was improperly surveilled. There is currently no evidence to prove that claim.
White House press secretary Sarah Huckabee Sanders said in a statement Monday evening that a number of congressional committees have requested "for reasons of transparency" that Trump direct the Office of the Director of National Intelligence and the Department of Justice, including the FBI, to immediately declassify several pages of the June 2017 application to the FISA court in the matter of Carter W. Page. In addition, the FBI reports of interviews with Bruce G. Ohr prepared in connection with the Russia investigation and the interviews prepared in connection with all Carter Page FISA applications were requested declassified.
"In addition, President Donald J. Trump has directed the Department of Justice (including the FBI) to publicly release all text messages relating to the Russia investigation, without redaction, of James Comey, Andrew McCabe, Peter Strzok, Lisa Page and Bruce Ohr," Sanders added.
Democrats slammed Trump for the move, saying it's yet another instance of him interfering in the Russia investigation.
"President Trump has intervened again in a pending investigation by ordering the selective disclosure of classified materials he believes to be helpful to his defense," Rep. Adam Schiff, the ranking member of the House Intelligence Committee, tweeted Monday night. "The DOJ and FBI have previously informed me that release of some of this information would cross a 'red line.'"
The investigation has felled a number of top Trump campaign officials, including Gen. Michael Flynn and former Trump campaign chairman Paul Manafort. Special counsel Robert Mueller's team said Flynn is now ready for sentencing, and Manafort pleaded guilty on Friday and agreed to cooperate with the investigation.
Capitol Hill happenings: Kavanaugh, Ford to testify on sexual assault allegations
Supreme Court nominee Brett Kavanaugh and his accuser, Palo Alto University professor Christine Blasey Ford, will testify in a public hearing before the Senate Judiciary Committee on Sept. 24.
The hearing will likely bring fireworks, as Ford will detail her allegations of sexual assault against Kavanaugh that threaten to derail his confirmation. Ford says Kavanaugh pinned her down and tried to remove her clothes at a party when the two were in high school, but she was able to break free and run away.
Kavanaugh denies the allegations and has vowed to fight to preserve his reputation.
The entire incident takes what was supposed to be a winning confirmation fight for Republicans and turns it into yet another political disaster for the GOP in a year where the party can't afford to make any mistakes in their quest to hold on to their congressional majorities.
And the rest…
Drain the swamp: FEMA administrator Brock Long — who is under fire for using government vehicles to travel to his home in North Carolina — has been referred to federal prosecutors over his use of taxpayer funds for his commute, the Wall Street Journal reported.