Tiny houses are the next big thing in travel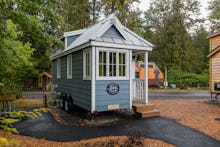 "Have you ever seen anything cuter in your life?" my friend squealed as we approached our 261-square-foot mini cabin in the shadow of Oregon's Mount Hood.
Our tiny house is more than tiny, it's teeeeeny, like if you took a gingerbread house, stretched it out to the size of a trailer, and slapped some green-certified, cedar-plank siding on it to make a precious child-sized log cabin. And yet, my 5-foot-9-inch frame couldn't wait to get inside. For the next two nights, we'd be camped up at the Mt. Hood Tiny House Village, on a trip hosted by Buick to promote its new Encore vehicle. The village is just an hour outside of Portland, but it feels like another world — a pint-sized, highly Instagrammable, just-freaking-adorable world.
But firstly, a tiny house isn't actually a house at all. It's technically an RV, meaning it can be towed anywhere you'd like to wander. Jenna Spesard, the blogger behind Tiny House Giant Journey, took hers across more than 30 states — Alaska included. The RVs are also ideal for staying put, and that's the idea at Mt. Hood Tiny House Village, an RV Park with six tiny houses, each styled to fit different personalities — from the bookish Lincoln I was staying in to Southern belle Savannah. Each house is a permanent fixture in the RV park, has indoor plumbing and surrounds a shared fire pit. These guys aren't for taking on the open road. Instead, they're tethered to the ground to make up a cozy little town.
They also provide major organizing inspiration for anyone who's used to living in a too-small apartment space. In Lincoln, each stair up to the loft is a cabinet for stashing books, boots and clothes. (Genius.) Stools for the breakfast nook are stacked and stowed underneath a slim wall-mounted table. Mattresses in the upstairs loft (there are two loft beds in Lincoln, as well as a double and a single) rest on the floor because bed frames would take up too much space. There's a shower, but no bath. And the TV? Obviously teeny flat-screen, though we didn't even think to turn it on.
But more than anything, tiny homes are cuuuuute, which was a major selling point to an Instagram addict like myself. I'm not alone in my quest for a stay that provides a good photo opp — some companies are banking on the cuteness factor to drive millennials to think small when they travel.
"The word 'Instagrammable' is a word we use all the time," Annie Colletti, a marketing manager on the trip who represents Petite Retreats, said. Petite Retreats has groups of tiny homes scattered throughout the country, including the Mt. Hood Tiny House Village. "A lot of people don't want to stay in a standard hotel where there's however many of that same room plastered across the country. They want something different." Truth: My friend and I took about a hundred pictures of us on the mini patio of our mini home.
But tiny houses aren't just a cute Instagram moment — they're also a legit travel trend for millennials because of their eco aspects.
According to a survey by luxury travel network Virtuoso, millennials are three times more likely than Generation X to seek out and support travel companies that are committed to sustainable tourism. The Mt. Hood Tiny House Village in particular is made up of Tumbleweed Tiny Homes, which are all green-certified. They use wood that's not as chemically treated as most lumber, and mini-split AC/heating units that are energy efficient, Colletti said. Plus, the homes are well-insulated to maintain temperature, she added. While there is running water and an electric stove, the toilet is pedal flush (meaning no standing water in the tank) and reusable plates and bowls line the shelves. Sure, you might have to fly across the country (not exactly carbon-neutral) to get to a tiny house, but once you're there, you're using far less energy and producing less waste than you would at a traditional hotel.
They're also significantly cheaper than most big box hotels, a plus for adventure-seekers who are looking for budget-friendly accommodations. (Spesard, the Tiny House Giant Journey blogger, says on her website that she started her tiny home adventure because she "had an overwhelming amount of debt and no money to pursue [her] dreams.") At $149 a night for the Lincoln, which sleeps five, you could cozy up at $30 a night — if you're comfortable sharing a tiny bathroom with four other friends. Sleeping two in the Lincoln was plenty of space: One of us slept in the loft, the other on the main floor bedroom. One more would have been slightly chaotic. Four? A mess. And with an electric stove and mini-fridge, you could make all of your meals en suite — or you could drive a mile down US-26 to the Rendezvous Grill for farm-to-table fare and its fantastic salmon.
The options for tiny house stays around the country continue to grow. Airbnb has offerings all around the country, from Atlanta to Nashville to Vancouver. Fireside Resort in Jackson Hole has three tiny cabins, each perfect for après-ski cuddling. Getaway retreats has trailers outside of Boston, Washington, D.C., and New York City — the tiny trailer in the Catskills looks like the perfect way to find a new appreciation for Manhattan studio living.
But beyond the cheap vacation, staying in a tiny home, even just for a few days, hits the ultimate millennial sweet spot: It's an experience. Sure, you'll get great pictures and save a little cash, but ultimately, stepping onto the two-step porch and lowering your head to enter the front door is all part of the fun. We even spent time cooing over the mini-fridge, something I've never paid attention to at most other hotels. And doing it all in the great outdoors with just five other tiny homes surrounding you, as opposed to being one of hundreds in a big box hotel, makes it feel intimate, real and, yes, cuter than anything you've ever seen in your life.