Chella Man, Laith Ashley and the slow rise of the trans male model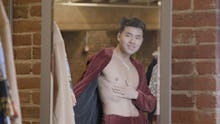 The number of transgender models in fashion continues to tick up season after season. For fall 2015 four major fashion weeks in New York, London, Milan and Paris, only six out transgender models walked the runways; that number rose to 64 in spring 2018, according to data compiled by the Fashion Spot.
Just look at the number of trans models Mic has written about in the last few years: Leyna Bloom, Munroe Bergdorf, Shay Neary, Torraine Futurum, Teddy Quinlivan, Maya Monès, Geena Rocero, Kayla Ward, Anjali Lama, just to name a few. What do they all have in common? They are trans women.
It's not as though trans men aren't making their mark. Mic has profiled a number of them, including Laith Ashley, Casil McArthur, Jaimie Wilson and Chella Man. But there are far fewer opportunities for trans male models, several of them told Mic.
"I love clothes and I want to be on those runways, but I haven't necessarily gotten the opportunity to do so," Ashley said in Thursday's episode of Mic Dispatch. "The powers that be in fashion need to make a conscious decision to include us."
Despite the roadblocks, Ashley has successfully carved out a space for himself in the industry, appearing in campaigns for Diesel and Barney's, walking for Gypsy Sport and Marco Marco and gracing magazine covers including Attitude and Gay Times. In many senses, Ashley is paving the way for greater inclusion of trans men in media.
"When people look to me as being the first of many things as a trans man in media, I also try to remember that I have to speak on behalf of the people that are visibly trans because I'm not visibly trans," Ashley said. "I know a lot of community members say, like, 'Oh, not all trans people look like this' or 'he's getting this far because he looks like a cis man.' And I'm just like, 'Yeah, that's exactly it' because my look is something that straight cis people can wrap their heads around. And because of that, I have a responsibility to speak on behalf of those who don't fit that mold."
And while trans male models can face barriers of entry within the fashion world — most commonly being too short in an industry that favors height — it's thanks to places like Slay Model Management, an all-trans modeling agency founded by Cecilio Asuncion in 2015, that more opportunities are being flagged.
"It's my job to go and convince [the models that] people aren't staring at you because you're trans." Asuncion said. "People are staring at you because you're beautiful."
Chella Man, a 19-year-old genderqueer, trans-masculine-presenting artist, is also having a breakout year. On Tuesday, Chella Man signed with top talent agency IMG. Man, who has appeared in campaigns for MAC Cosmetics, American Eagle, Gap, ASOS and Dr. Martens, said modeling was not something he chose, but rather something that chose him through various brands discovering him via social media.
"It just means they're opening up their doors and allowing a more diverse form of beauty to enter," Man said in an interview. "Just seeing the amount of people in this industry who welcomed me with open arms, it just shows me, and proves to me, that people's ideas of beauty are shifting to become more of a spectrum, and this is like the perfect time for me to be alive and to be here."
Man has one message for transgender men who don't see themselves within fashion and therefore think it's not a place for them. Keep fighting.
"I can tell you that there is like a revolution coming and it has so much momentum and it's building and it's going to pop," Man said. "So regardless of whether or not that is true right now, it will be true soon."
Check out episode 20 of Mic Dispatch above — only on Facebook Watch.
To catch future episodes of Mic Dispatch, follow Mic Dispatch on Facebook Watch. For more stories about the show, visit the Mic Dispatch collections page.